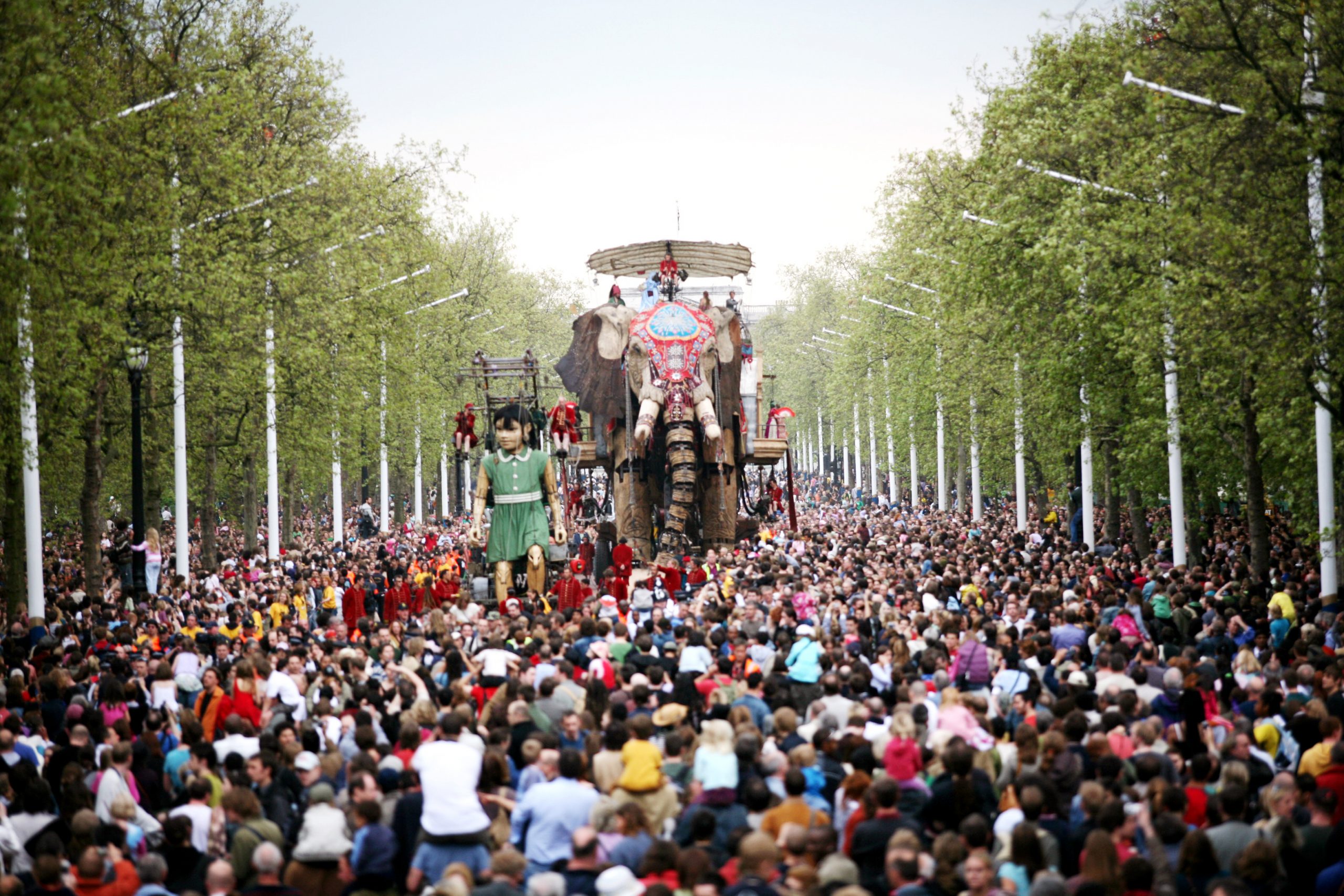 Artichoke works with artists to invade our public spaces
Making extraordinary art accessible to all is at the heart of everything we do.
1. Make magic: produce amazing experiences that stay in the memory forever

2. Believe in the transforming power of art: change the world for the better

3. Support visionary artists: established or emerging – never compromise on ambition
4. Take risks: try difficult things and share the lessons learnt.

5. Inspire collaboration: bring disparate groups together wherever they're found

6. Champion civility: be custodians of welcoming public spaces
7. Be in it for others: unite around values that inspire equity and remove all barriers to attendance

8. Take the long view: pursue larger visions that unfold over years

9. Bring light to shadow: illuminate current realities with courage and warmth
Artichoke
was founded
in 2005 to bring
The Sultan's Elephant
by Royale de Luxe to central London.
For the first time, streets
normally
reserved for state occasions or sporting events
were taken
over by art
.
The Elephant changed the landscape for outdoor art forever and catapulted Artichoke into the public eye
.
The company has continued to work with artists ever since, with the aim of producing unique, large-scale experiences that appeal to the widest possible audience
.
We don't believe the arts should only take place behind the closed doors of theatres, concert halls or galleries
. Instead, you will find our events in the street, public squares, along the coast or in the countryside.
From London to Liverpool, Durham and Derry~Londonderry, we have transformed places across the UK
.
While our events are ephemeral, often taking place over course of a few days, we aim to create experiences that stay in the memory forever
.
Over 100,000 people have taken part in our
learning and participation
 programmes
. Through our work we aim to build new skills, inspire creativity and make a meaningful difference to communities across the UK.
This includes a wide range of creative activities; from workshops, community co-creation artworks and performance opportunities, to education initiatives, training and professional development schemes
.