June 25, 2018

Tens of thousands of you attended PROCESSIONS 2018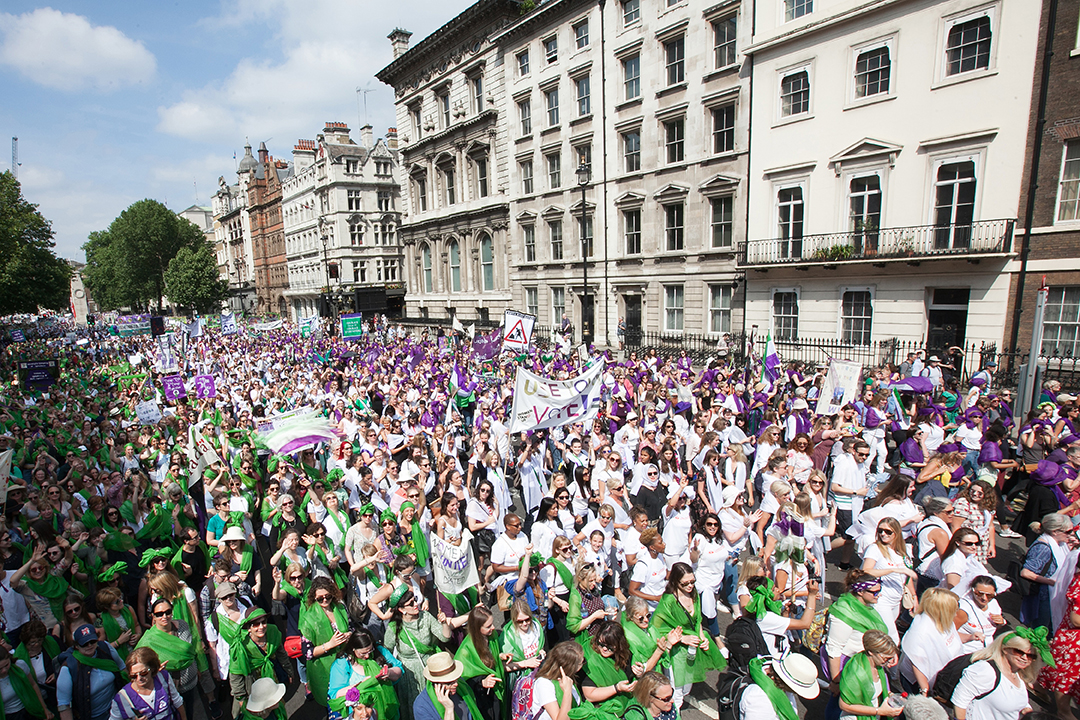 On Sunday 10th June women and girls* of all different ages and backgrounds filled the streets of the UK's four capital cities, Belfast, Cardiff, Edinburgh and London to mark a 100 years of voting rights for women.
Every participant was given a scarf in either green, white and violet which created a striking river of colour. The streets were filled with cheers, songs and an array of stunning banners, pennants and flags. PROCESSIONS finished with each person walking underneath an arch that read 'My Vote Really Makes a Difference,' leaving everyone to reflect on their experience of the day, the 100 years which have passed since some women won the right to vote and what still remains to be done today.
 Among the extraordinary banners and pennants were 100 specially commissioned artistic banners, created in workshops during months ahead of the event. Throughout PROCESSIONS, we worked with 100 UK organisations – stretching from Newlyn in Cornwall to Stornowat in the Outer Hebrides – in collaboration with amazing women and women identifying artists. The artworks offer a poignant reflection on the range of women's experiences today.  
In London, our Artistic Director and CEO Helen Marriage was joined at the front of the procession by Helen Pankhurst, great-granddaughter of Emmeline Pankhurst. Women and girls travelled to London bearing banners representing groups from counties up and down the country, with slogans such as 'Power into the Future', 'We're Here Because of Her' and 'Women Make Herstory'. Amongst the banners, was an artwork by Southall Black Sisters, featuring Indian Princess and Suffragette, Princess Sophia Duleep Singh and a banner by students of London College of Fashion, with Historic England, Lucy Orta and the inmates of HMP Downview.
In Edinburgh, participants travelled from far and wide across Scotland, with one group travelling almost 400 miles from Shetland to attend on the day. Another group from the North East who worked on individual sections of their banner met for the very first time in Edinburgh and walked together underneath their finished creation. The procession was led by the Lord Provost of Edinburgh's official piper Louise Marshall, playing homage to lone female piper Bessie Watson who led a procession along Princes Street in 1909. You could see participants beaming with pride walking and chanting all the way along the 2.5 mile procession.
In Cardiff, participants were joined by Plaid Cymru Leader, Leanne Wood and Emmeline Pankhurst's great-great-great niece Louise Helen Johnson, who only learnt of her suffragette ancestry when she was 30 years old. You could often see three generations of one family processing in Cardiff, to the sound of music performed by choir, Only Menopause Aloud and women from the band Symphonic Brass Wales.
In Belfast, actor Saoirse-Monica Jackson from the Derry Girls series participated alongside Councillor Deirdre Hargey, the recently appointed Lord Mayor of Belfast, and Paralympic champion Kelly Gallagher. At the front of the procession, was the banner by the Institute of Conflict Research with Rita Duffy, whose creation was a modern adaptation of Botticelli's 'The Birth of Venus'!
A massive thank you to the tens of thousands of you who came to mark this historic occasion.
You can relive the moment on our YouTube channel and via the PROCESSIONS Gallery.
You can also purchase a souvenir pin badge or tote bag from our PROCESSIONS shop.
*those who identify as women and non-binary