December 17, 2019

Artist Interview: Adam Finlay, NOVAK "Art can make people feel the immediacy of global warming and take action."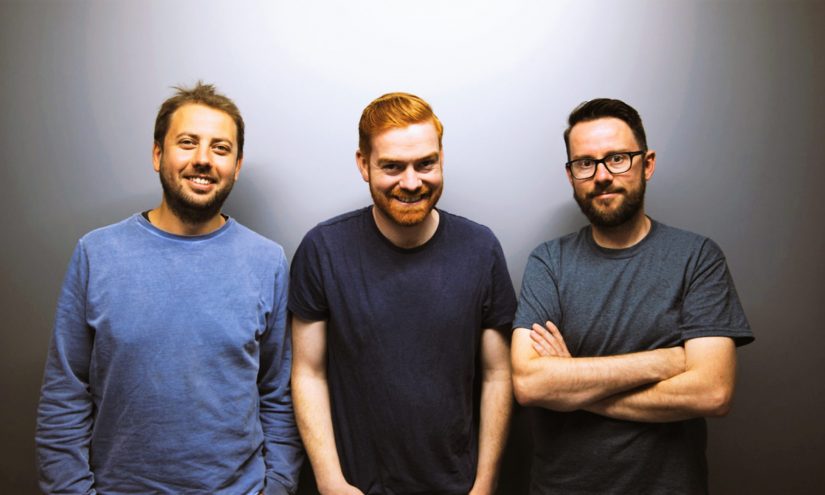 NOVAK are back in the capital with a spectacular public artwork for the first time since Lumiere London 2016. Imminence is a new work commissioned by Bloomberg Philanthropies and produced by Artichoke to awaken Londoners to the urgency of the climate crisis. Today we're in conversation with Studio Director, Adam Finlay about the importance of allowing artists to be part of the climate conversation before it's too late.
Motion-design artists, Adam Finlay, Elliot Thomson and Keith Daniels founded Newcastle-based creative studio, NOVAK in 2008. Since then they have designed extraordinary visuals for stage productions and some of the world's leading music events including Glastonbury (UK), Coachella (USA), Fuji Rock (Japan) and Roskilde (Denmark). More recently, NOVAK have focused on creating their own spectacular site-specific installations for light festivals and arts events like Lumiere (Derry-Londonderry, Durham, London), Singapore Night Festival and Brighton Festival.
Imminence is an immersive artwork which spans the full length of Bloomberg Arcade, submerging passers-by in shifting audio-visuals depicting the effects of human-led climate change from bee extinction to deforestation. Produced by Artichoke, Imminence is part of a series of public artworks commissioned by Bloomberg Philanthropies with the aim of inspiring climate action in cities around the world.
Visit Imminence
Location: Bloomberg Arcade, London, EC4N 8AR
Dates: 5th December 2019 – 10th January 2020
Times: 4pm-11pm GMT, daily
Free to visit, no ticket required. 
Follow on social media using #Imminence2019
Can you tell us about Imminence? What's the story behind the design?
It's a brand new audio visual ground projection that covers 50 metres of the Bloomberg Arcade at Bloomberg's London headquarters. We wanted to create something that complimented the impressive architecture of the building and which was genuinely immersive. If you're passing through the arcade, Imminence is unavoidable because
climate change really is something that affects us all and can no longer be ignored. Aesthetically it's bright and bold and the animations, which we created in collaboration with textile artist, Hazel Dunn are beautiful and enticing, but on closer inspection the message about the stark reality we face is much darker.
Do you think that public art has the power to inspire people to take action to address the climate emergency? Why?
I certainly believe that art can make people feel the immediacy of global warming and take action. By presenting these artworks in public spaces where people are just going about their normal day to day business we're able to speak to a really a broad range of people.
Imminence depicts current global issues, from coral bleaching to species extinction. How did you choose what to focus on?
We were keen to reflect the scale of the environmental challenges our planet is facing, while also focusing on issues like deforestation and pollution which are a direct result of human intervention as a reminder that we can prevent further damage if we choose to act now.
Which artists have inspired NOVAK and the work you create?
I'm always trying to take inspiration from as wide a palette as possible, depending on the project. There are lots of contemporary artists like TeamLab, who are making exciting use of technology to create some really interesting works. Equally, to create something like Avenue (2018) as part of Northern Lights we took great inspiration from some mid-century textile designers, in particular the celebrated Hull-textile designer, Shirley Craven.
NS: Do you think that digital artists like yourself and TeamLab are shaping the way we create and experience art?
Definitely, because technology has become so much more accessible and adaptable. For example to create FLUX (2019) we used a video games engine to generate the real-time data, which TeamLab also do with many of their artworks. It's just about going in with a very open mind to the tools available. We're quite a techy company in a way, because as well as doing the creative side we can also deliver on the technical aspects too. But ultimately, we try not to get too caught up in the technology, because what's most important is the end result and how people will experience it.
Which is your favourite artwork that NOVAK have created up until now?
 That's a hard one! Dr Blighty (2016), our 14-18 NOW commission for The Royal Pavilion in Brighton was certainly a highlight, just because of the sheer scale and because it had an important and challenging narrative. It told the story of more than one million men who travelled from India to fight in the First World War. There's certainly a great sense of pride with something like that. Avenue in Hull was also a great moment because it was our first major artwork to use the technique that we used for Imminence. It was a projection onto the street as opposed to a building so that people were able to walk through and interact with it.
To create Imminence, you joined forces with textile artist Hazel Dunn and your long-time collaborator, composer Ed Carter. What did Hazel and Ed bring to the artwork?
 Hazel is a fantastic textile designer, who has a really distinct and vivid style, which is what makes Imminenceso eye catching. 
The audio aspect is also really crucial and we've worked with Ed on most of our projects.He's not officially part of NOVAK, but if there ever was a fourth member then it would be him.He brings a really unique approach to the process of creating the sound, like taking inspiration from the architectural and historical environment of the location where the work is presented. For Imminence he used historical environmental data to inform the structure of the musical score. 
How did the collaborative process work? What comes first the audio or the visuals?
Usually we draft a story board which makes reference to some of the aesthetic looks and styles. Ed will respond to that with a musical sketch, thinking about the style of music and instruments he might use and then we animate and build on that. We've worked together for so long and it was actually Artichoke that brought us together for the first time to create Voyage at Lumiere Derry-Londonderry. We've now worked with Ed and Hazel on many occasions over the years and we really understand each other's creative processes.