#HERD2023 is now live and sheep like you've never seen or heard before have popped up in surprising places around Kirklees, but the question is: how do the sheep sing?
Listen to this blog post: 
HERD is a musical and sculptural odyssey of epic proportions devised by Orlando Gough, bringing together community of makers, hundreds of local schoolchildren and many hundreds more members of music groups and soloists. Created with their own unique character, the 23 larger-than-life sheep are popping up across the district of Kirklees this week, singing original compositions created especially for this project.
Learn all about the technical process behind HERD's evocative soundscapes in this interview with expert sound designers, Sebastian Frost and John Del'Nero.
Sebastian Frost has designed sound for plays, musicals and opera in London's West End and on Broadway, from Cape Town to Sydney. Immersive soundscape design is often a focus in his work, devising sounds for a unique range of exhibitions, visitor experiences and art installations. In 2008, he received the first ever 'Best Sound Design for a Musical' Tony Award nomination for Sunday In The Park With George. 
John Del'Nero began his career in London's West End on productions such as Jesus Christ Superstar, Billy Liar and Jeeves. He designed the sound for the original Rocky Horror Show and was the Sound Designer for the Royal Edinburgh Military Tattoo for 24 years. He has worked for Royal Families in the UK and abroad including Jordan and Saudi Arabia, and has previously worked with Artichoke on Ready to Drop, in collaboration with Orlando Gough, Hilary Westlake's Dining with Alice and Deborah Warner and Fiona Shaw's Peace Camp.
Curious about how Seb and John made the sheep sculptures sing? Keep reading!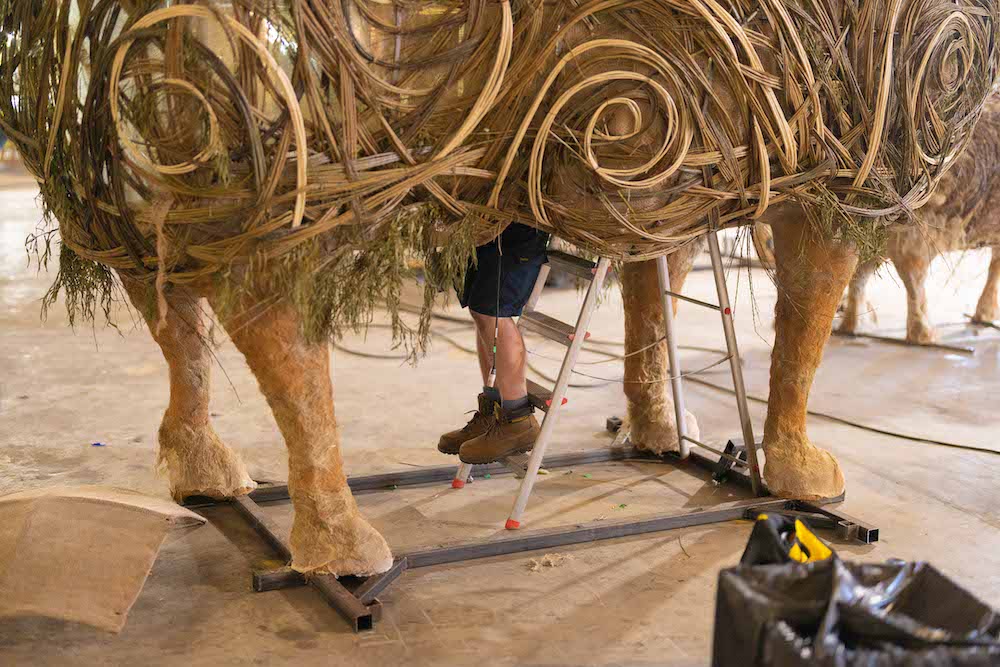 Can you tell me about that part you played in HERD?
Seb: This is a very unusual project and it's been quite a long process… Firstly, trying to come up with ideas of what to do and then, once the idea had gestated, it was time to work out how to approach it from a practical point of view, because sound design is really lots of different disciplines rolled into one. It's got a creative side as well as a technical side, and a practical side, as a lot of creative roles do. It was very much the practical side that was keeping me awake at night…
You've got sheep in the countryside, but how do they make noise? What do you put in them? How do you power them? And actually, how do you bring them together, in smaller groups and in the big group in St George's Square…  It took quite a while to come up with a plan! 
John: Fortunately, we have done really big sort of systems together, and one of the most difficult was the project Artichoke produced years and years ago: Peace Camp.
We developed a loudspeaker for Peace Camp that could hold all the sound inside it and you could trigger that or use a radio signal. So, we've employed those exact loudspeakers for HERD, so that we doesn't have to have cables going all over the countryside. We don't have to worry about generators, and all the systems are therefore independent.
So, the sheep's sounds are all in sync, but they're singing different things. How did you design that?
John: What Seb's done is he's taken all the tracks that the composers and soundscape artists have made and he's created individual tracks for each sheep.
Seb: For example, at the beginning of the track we hear what I call a 'sheepscape', which I made by grabbing every sheep sound I could possibly find, that had ever recorded, and spread those out onto about 16 different tracks of sheep. And they're all slightly different lengths. Each track goes to one or two sheep and loops, so, it's an ever-evolving sound of sheep and each sheep sounds slightly different.
As you move around the square, you will hear what sounds like a herd of sheep, as opposed to just one sound going through all the sheep – you've got many sounds, each going to individual sheep, so that's quite fun to do!
It's been lovely working with such a variety of people, and a variety of different styles as well. Orlando [Gough]'s done an amazing job to really spread out a bit and come up with a fairly varied collection of people, musicians, performers and artists. It's been lots of fun going round Kirklees, recording them in a variety of different places and then putting them together and hearing what all of the artists and soundscape creators have come back with. Some of them are really, really extraordinary!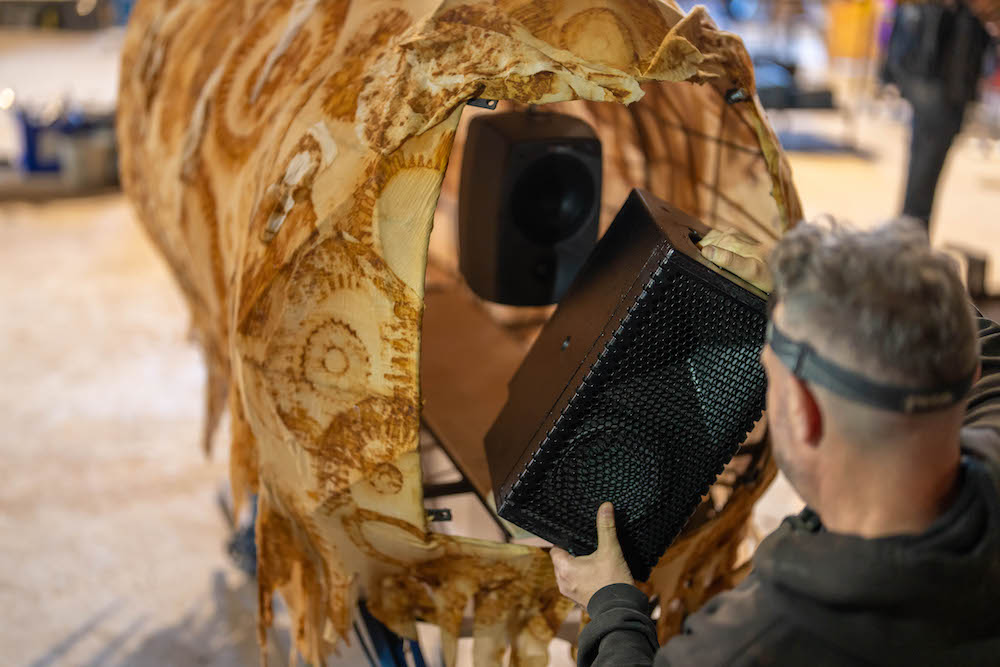 Can you tell me what your experience has been working on HERD, in terms of the biggest highlights as well as the challenges?
Seb: The biggest challenge really was to do with power, because obviously we knew fairly early on that everything would need to be battery powered. Batteries are becoming more of a thing, in terms of shows and other usage, with electric vehicles and things like that… But it's still fairly unknown in the live entertainment industry.
I contacted a company called PowerQuad, who are fairly new to the field. They're a UK company and they've started doing events, as well as other things, and they've been very supportive. It's still been slightly unknown territory because, each soundscape is roughly between 20 and 25 minutes long, and as we didn't don't know what that soundscape was at that stage, it was hard to predict how much power we would need.
John: Just to give an example: with lower frequencies, the drive is much bigger because the wavelengths to create the sound are much longer – that takes a lot more energy! So, you can actually see the wattage go up when you've got something that's very bass-y playing.
Can you go into a little more detail about the batteries used within the sheep and Artichoke's commitment to sustainability?

Seb: The good thing about PowerQuad is that the batteries are charged using solar energy. So, there was this amazing bit in the warehouse behind St George's Square, last week, when the batteries all got delivered – this big pile of black wheely cases – and that was all the energy we were going to be using during HERD. All just there, about a metre high! It's a very strange thing to see… All of that energy came from solar panels!
John: It saves around 3,500 kilograms of CO2. So, by doing that, we're trying to find greener solutions for events.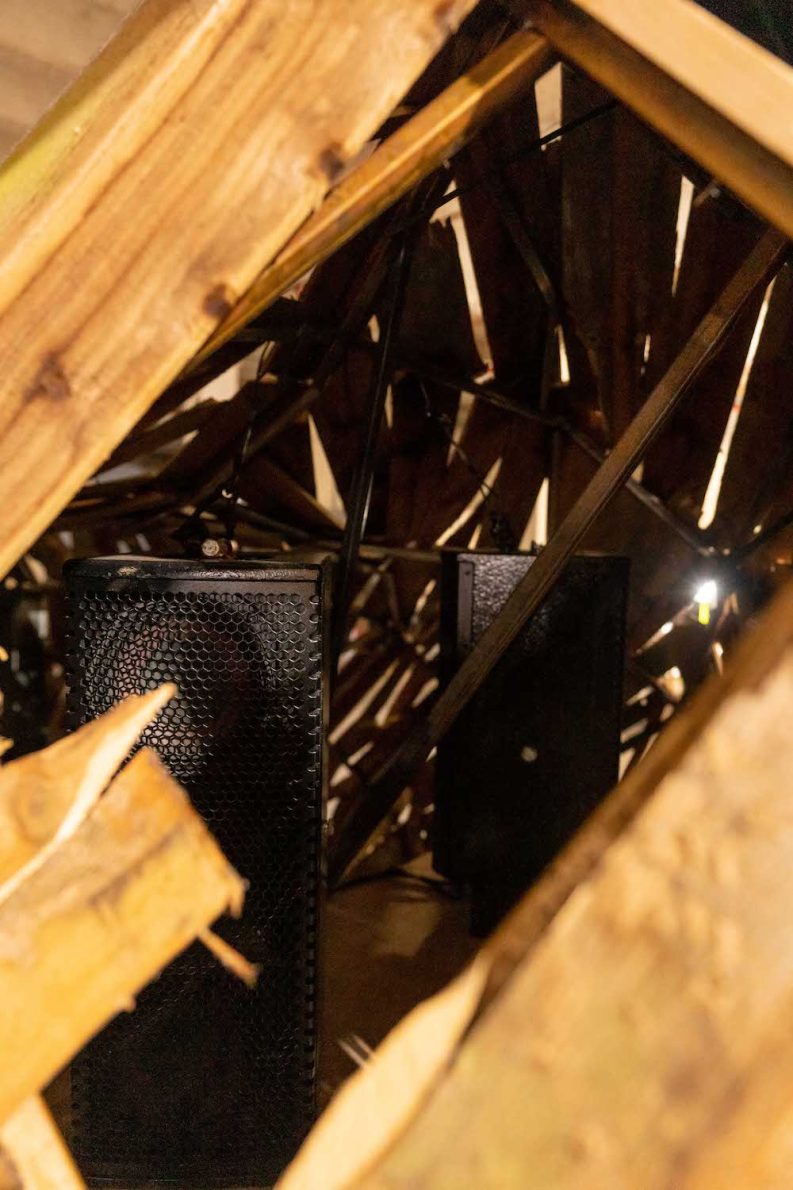 We've had our first mass HERD rehearsal, how are you feeling about where we currently are with HERD?
John: I think a lot of people might think of the finale event [when they think of HERD], but actually there are lots of events going on. We're creating different soundscapes in each location where the sheep appear, and every single one of those locations is completely different from the last. The finale is partly a big thank you to the participants involved, but the individual soundscapes are very precious to us too.
Seb: They are! It's really unusual to have the opportunity to create soundscapes and have those sounds designed for these wide and varied locations – outside in nature, etc. It's not very often that you get the opportunity to put a noisy sheep in the middle of a forest or on a narrowboat or somewhere else… and it's really interesting thinking about how [the soundscapes are] going to react in that environment and how the environment is going to react to [the soundscapes] in those places. I still don't know [how they will react to one another], but hopefully I've got a good idea.
Come and see the whole HERD in all their glorious diversity in St George's Square this Sunday, 16 July from 12:00 and stay for the free-to-attend grand finale featuring over 350 musicians, choirs and bands performing live from 17:00 – 18:00. You do not need a ticket to attend.
Share your #HERD2023 snaps! If you spot one of the sheep out the wild, share your snaps and tag us at @ArtichokeTrust.
Follow us on Twitter, Facebook, Instagram and for the latest updates.
HERD is produced by Artichoke as part of Kirklees Year of Music. The project is supported by Kirklees Council, Arts Council England, National Lottery Heritage Fund, West Yorkshire Combined Authority, Canal and River Trust, One Community and Leonard Curtis.