July 3, 2019

An Interview with Sculpture in the City & Lumiere Artist Elisa Artesero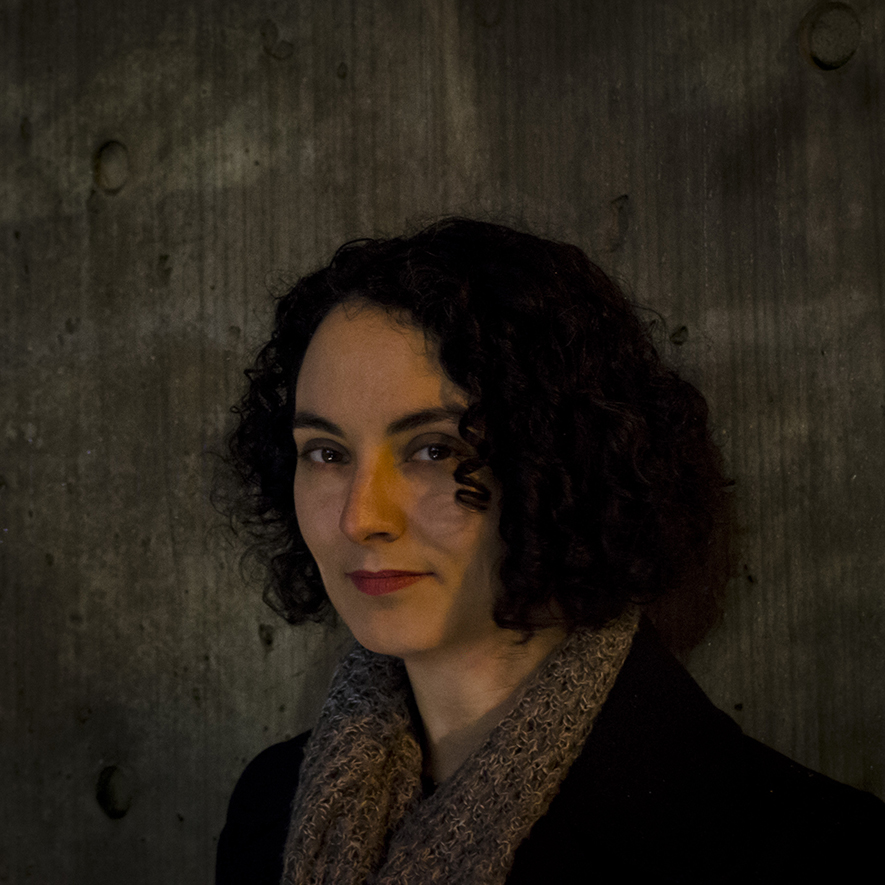 As sculptures appear in spaces around London's Square Mile for the 9th edition of SITC, we're in conversation with one of the Artists transforming the City with public art, Elisa Artesero.
This week Sculpture in the City returns to animate the passages and plazas of the Capital's financial district with a free outdoor exhibition of installations by internationally renowned artists including Elisa Artesero, Nathan Coley, Nancy Rubins and Salvatore Arancio. This year's programme will be on display from 27 June 2019 – April 2020. Elisa Artesero's sculpture, The Garden of Floating Words will be presented in a newly pedestrianised space outside 70 St Mary Axe in the City of London. This installation, originally created for the 2017 Canary Wharf Winter Lights Festival, is a cluster of glowing words which, as darkness falls, form a floating poem in the foliage. Sculpted in neon, a light source usually associated with urbanisation, the artwork creates a tranquil corner of contemplation in the City. Elisa Artesero is a UK-based light artist and co-director of Manifest Arts Festival, an artist-curated biennial festival of art in over 30 venues and studios across Manchester, Salford and Bolton (12 -21 July 2019). Her diverse international projects include projecting the words, Tonight We Dream onto the façade of an Icelandic mountain as part of List I Ljosi Festival and the large-scale commission, DREAMERS for Lumiere Durham in 2015. Today she joins us to discuss her artistic practice, the power of creative collaboration and the importance of public art and free cultural events.
What's the story behind your artwork for this year's edition of SITC, The Garden of Floating Words? And how did you create it?
My work is about transience, so I wanted to create a piece that on one level connected with the surrounding architecture of the large glass buildings in the City, but on another created an element of ephemerality. The Garden of Floating Words appears as glowing, floating words in the darkness, but is revealed during the day to be on tall rectangular stands, echoing surrounding buildings. The poem, 'You've Gone/Touching/Leaves/in the/Moonlight' offers passers-by something to ponder. It was first commissioned for the Jubilee Gardens, but its placement for SITC at 70 St Mary's Axe brings new readings to the text because the order of the words change depending on how you approach the work and its position in the planter outside the new iconic glass-fronted building means that the floating words reflect back and forth across the windows, multiplying the effect in the space.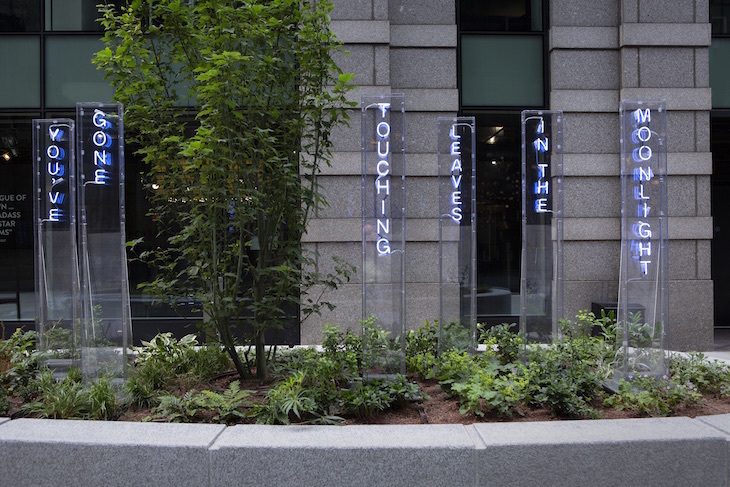 Words are clearly very important in your artworks. Where do you find the inspiration for the text and is it the starting point for your works? 
I write all the poetry and text for my work. Influences and topics vary but the recurring themes are the transience of our lives, dreams, space and the Sun and Moon. I'm always writing and I don't always have a visual installation in mind when I do so. Sometimes it feels like I write a poem and it's waiting patiently to find a visual expression or place to live, which comes along when I find a site. There are other times when the visual concept and words are worked out together and it's difficult to know which came first! I think for The Garden of Floating Words I had a strong concept that could be used with various poems in different settings, which is why it works so well in its new home, interacting with its surroundings in new ways. I'd love to be able to create another series of the same work in the future to respond to other spaces. 
One of your recent projects, Dreamers Dance (2018), a performance installation in the industrial studios, Artwork Atelier in Salford included ten dancers performing against a backdrop of mirrored lettering. And to create your artwork, DREAMERS for Lumiere Durham in 2015, you worked with Dyer Engineering. How do you find the experience of working collaboratively?
The words in Dreamers Dance were actually the same physical letters in the DREAMERS piece at Lumiere Durham! I love to re-use, re-work and re-contextualise many of my pieces, so Dreamers Dance was just this. Dance is an art form I admire greatly, and I've always wanted to see how a choreographer would interpret my work. The same goes for working with a music producer (Caro C) to produce a bespoke body of music. These art forms aren't my speciality, so the process of collaboration is very important to me, including the fabrication of my larger works. Other people have different knowledge, experience and ways of interpreting the world, so collaboration always enhances a project as we can draw on one another's skills to create something we couldn't create alone. 
What is it that appeals to you about light as an artistic medium? 
Always such a difficult question to answer fully! Its ephemerality is probably the most wonderful thing about it. How it can be shaped, directed, move, seem almost solid at times and yet disappear in an instant. This makes it a beautiful medium to work with and endlessly fascinating.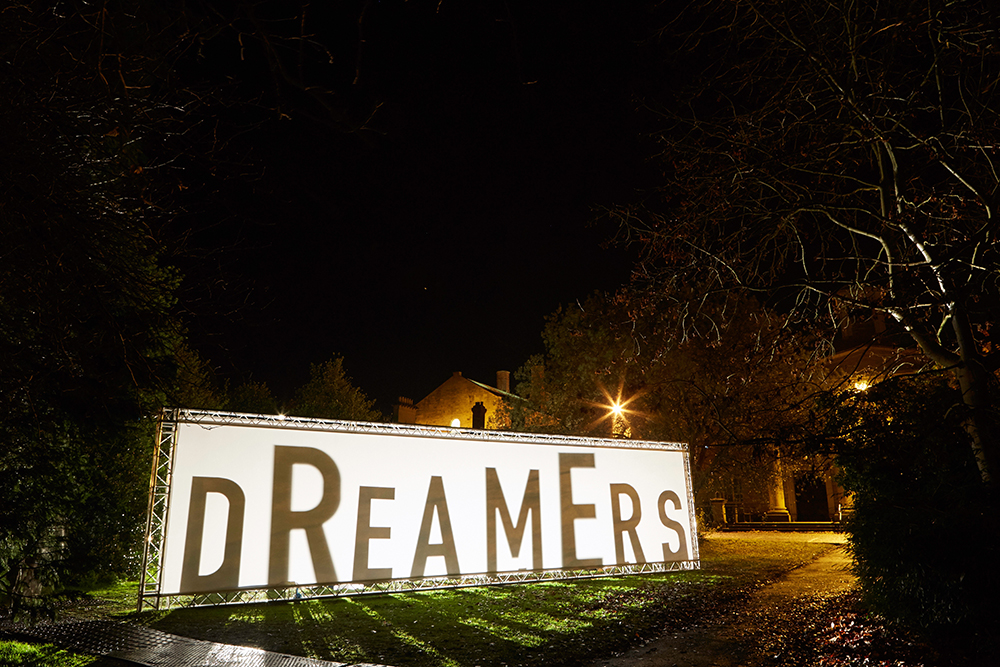 As a curator and director as well as an artist, how do you balance these different disciplines? How does your own artistic practice influence your choices as a curator? 
I try to keep the different projects as separate as possible, so I have an office to work on the Manifest Arts Festival and my studio across the city to create my work. Many people only know me in my capacity as an artist or as the co-director of the festival, which I quite like as it's a bit like living two lives at once as both give me different experiences and skills.
Which other artists or creatives have been inspirational to you and your work? 
In terms of light art, I visited Lumiere Durham while I was still at university. I knew I wanted to work with light as my main medium, but it was experiencing the magic and joy created by the festival that really made me think I wanted to create work that could inspire that feeling in people. I also really admire work by Nancy Holt and Anthony McCall, plus many architects' work and use of light in space such as Tadao Ando. I also adore poetry of all different types. My first love was the Liverpool poets, full of humour but also poignant observations of normal life. I am particularly influenced by Zen poetry and Japanese Haiku – the messages of transience in the former, and the short structure of the latter, both expressing so much in so few words.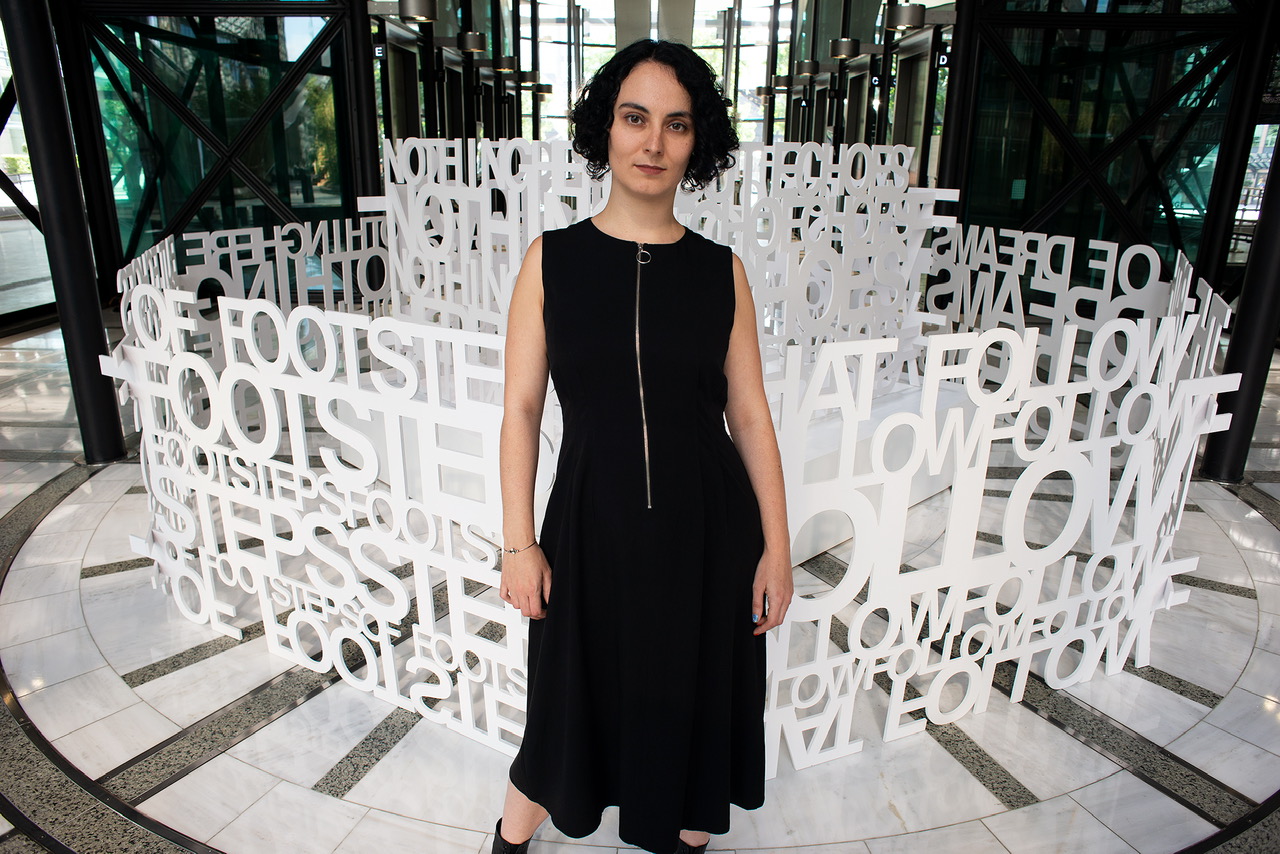 What are the challenges of creating an artwork for an outdoor, public event like SITC and Lumiere and what do you think the positive impacts of events like this are? 
Outdoor work is a challenge to create because you have so many external factors to take into consideration, the weather being a large one! Most outdoor artists work collaboratively with a team of people to utilise their expertise and ensure the work is safe for display while the artistic vision remains as intended. Sometimes the design has to be changed to accommodate these factors, but I often find the design solution can be more elegant than the first choice. For example, I originally designed the DREAMERS letters as upright box shapes, but the fabrication was too complicated, so I was forced to go back to the drawing board and found that designing them into a triangular structure made for a more robust shape and a far more elegant piece of work. 
Outdoor events like SITC and Lumiere are so important in making art accessible and bringing either, moments of joy and contemplation or challenging certain political or societal norms in an engaging and thoughtful way. I like to create work outdoors so that as many people as possible can see it and hopefully connect to it in some way. People's interpretations don't have to be my original intended meaning either, particularly when it comes to the poetry. I'm always surprised and delighted by the different meanings and interpretations given for my poems, some find them extremely positive and others heart-breaking. For me personally, it's about pausing daily life and giving people a moment away from whatever they were thinking or worrying about at the time. We spend so much of our lives on our phones, worrying about what we have to do next that it's often very difficult to just be in the moment.
sculptureinthecity.org.uk (27th June 2019 – April 2020)