October 17, 2019

It's here! Lumiere Durham 2019 programme revealed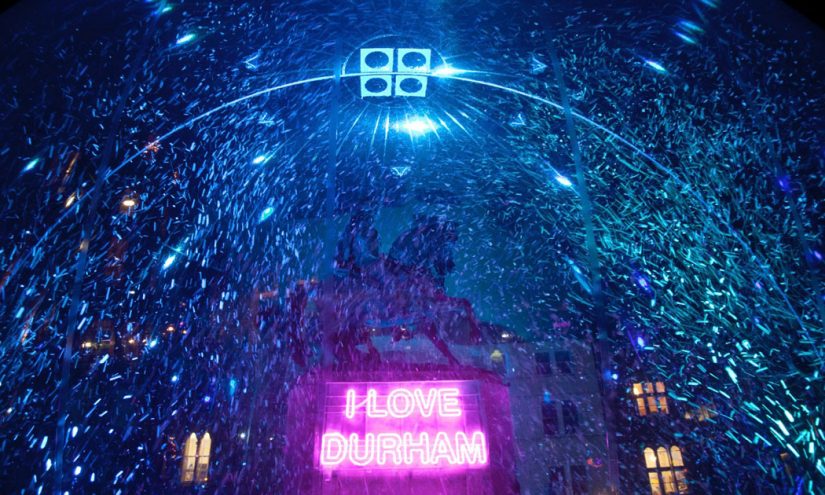 Discover the spectacular artworks programmed to transform Durham from 14th– 17th November 2019.
We're delighted to reveal the 37 artworks programmed for Lumiere Durham's 10thanniversary edition this November. In the most ambitious edition of Lumiere yet, we're bringing back a selection of favourite artworks from previous festivals. These sit alongside a host of dazzling new commissions by renowned international artists, fresh talent from the North  and artworks involving local community participation.
Free to attend, the festival will reimagine the city through dramatic installations, dynamic projections and reflective works, which showcase the diversity and creativity of light art. The festival is commissioned by Durham County Council, with additional support from Arts Council England​, Durham University and a host of further funders and supporters.
Lumiere 2019 marks 10 years since the festival first launched in Durham. 10 years ago, the first ever Lumiere transformed Durham into a magical nocturnal cityscape with 22 artworks created out of light.This dazzling night-time spectacle has now become an unmissable fixture in the cultural calendar of the North East. While the number of artworks and visitors has continued to increase, the idea behind the festival — to bring art out onto the streets and cast the city in a new light — has remained steadfast. Here's a taste of what to expect at the festival this year…
New to Lumiere Durham 
This year sees several new commissions and many interactive artworks that visitors can play with. Stones by artist collective Tigrelab Art (Spain) is a shape-shifting video-mapped projection that will animate the facade of Durham Cathedral that invites audiences to interact and manipulate using tablets made from stone. Inspired by the coloured tiles that characterise so many Portuguese cities, Human Tiles by Ocubo (Portugal) will transform the exterior of Gala Theatre & Cinema responding to the movements of visitors whose bodies will create projected patterns in real-time. Visitors can release sparkling neurons into the night sky by tugging at the rope that propels Celestial Brainstorm by Amelia Kosminsky (UK); rotate the musical sculpture The Stars Come out at Night by Stellar Projects'(UK); or fly up and down on the illuminated see-saws, Wave-Field Variation H by CS Design and Lateral Office with a soundscape by Mitchell Akiyama (Canada).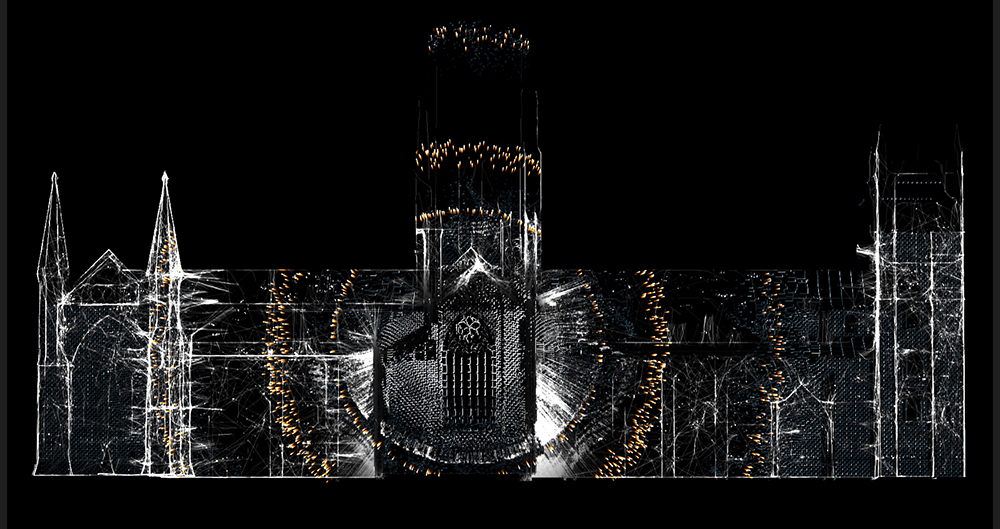 Geometrical Traces by Javier Riera (Spain) will illuminate the city's riverside tree canopiesin a mesmerising new work thatdraws upon mathematical patterns found in nature. Deepa Mann-Kler (UK) brings her glowing balloon dog sculptures Neon Dogs previously seen at Lumiere London, as well asanew work similarly inspired by pop culture. Shoefiti draws upon the urban phenomenon of shoe tossing, with over 150 illuminated shoes strung along Durham's streets in a playful nod to this mischievous practice. Squidsoup (UK)'s extraordinary immersive work Wave – featuring 500 orbs of light and 500 voices – comes to the festival direct from its first exhibition at Burning Man in the Nevada desert earlier this year.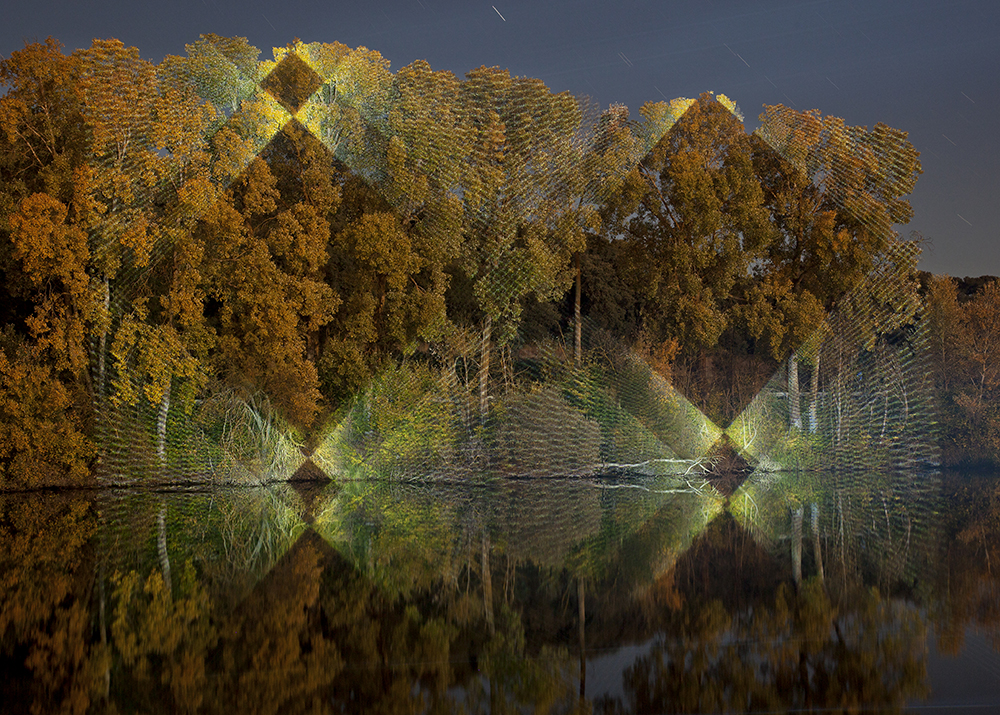 The four inventive artworks from the winners of the BRILLIANT competitionwill also be revealed. Penelope Payne (UK) brings a slice of summer to wintry Durham with Blue Skies, in her projection onto the underside of Milburngate Bridge. End over End, will remind everyone of childhood with this cleverhomage to the iconic slinky by Lucy McDonnell (UK); Washed Up, is a series glowing collages assembled from plastic reclaimed by Diane Watson (UK) from the beaches of the North East. A Different View by Mike Donaghy, provides a playful twist on the humble traffic light.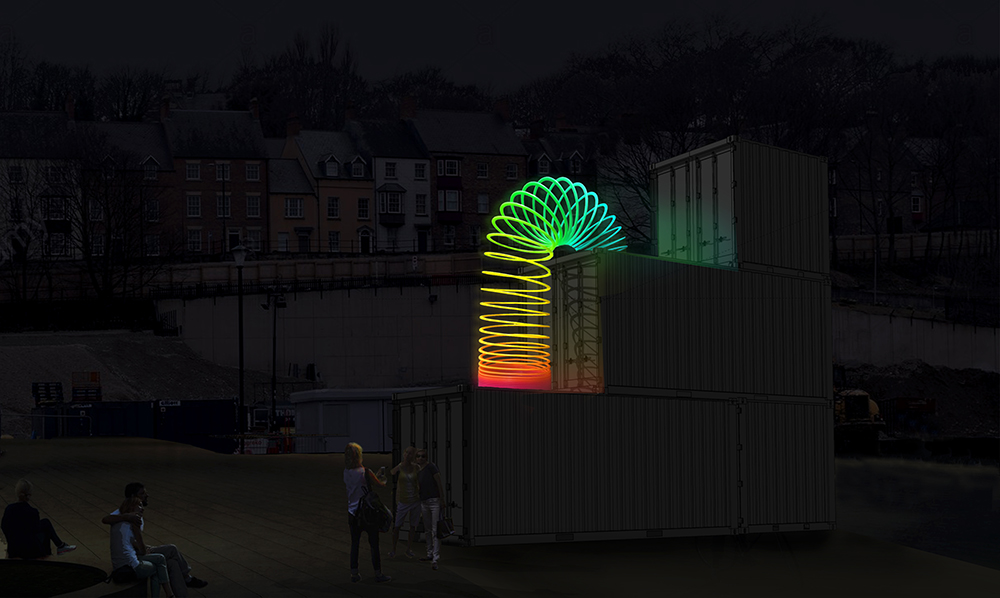 New community-led works
Artichoke have invited a range of community groups and individuals from across County Durham to take part in the creation of artworks for this year's festival. Women residents at HMP Low Newton in Brasside have worked with poet Hannah Jane Walker (UK) to create The Next Page, a message for the future in neon displayed at Clayport Library. Meanwhile piano players of all ages will have the chance to see their music-making transformed into shape-shifting patterns on the facade of Rushford Court for Keys of Light by Mr.Beam (Netherlands).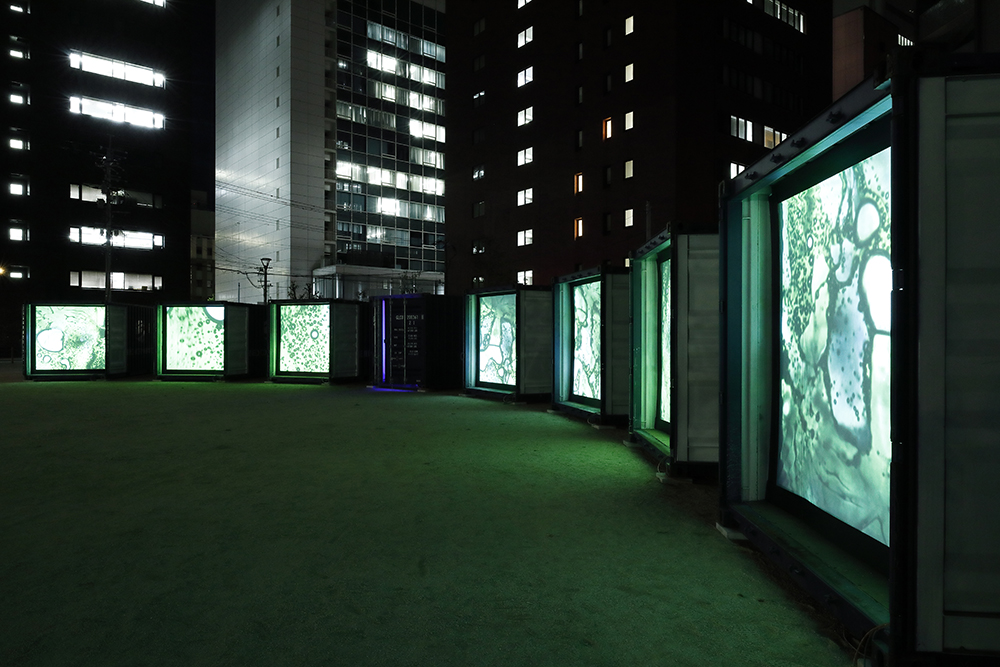 Students from Durham Sixth Form Centre have collaborated with Ocubo (Portugal) & Storybox (New Zealand) on Are Atoms Alive?, a fascinating short film displayed across nine shipping containers, whilst East Durham College students will reimagine the brutalist building Dunelm House with the new artwork Lift Off, a legacy piece from the Apollo 50 project in Peterlee earlier this year. Dan Shortenfrom Guildhall School of Music & Drama, whoprovided guidance for this project, is also bringing a Guildhall Live Eventsartwork – the immersive walkway Light Tunnel– to the festival.
Finally, young people from Parkside Academy in Willington and Tübingen in Germany have collaborated with schoolchildren worldwide to create the branches and flowers of Mick Stephenson (UK)'s Friendship Tree using recycled materials. The tree celebrates the spirit of collaboration and marks the 50th anniversary of Durham's twinning with Tübingen.
Returning favourites
 Lumiere 2019 will see the return of many past favourites from throughout the festival's history. Two artworks from the very first edition of the festival will be making a comeback – Echelle, the pink neon ladder by Ron Haselden (UK/France), will appear in its original location on Saddler Street, whilst Bottle Festoon will pop up in locations across the city. Over 900 children and adults haven taken part in drop-in workshops to create these dazzling chandeliers made from recycled bottles.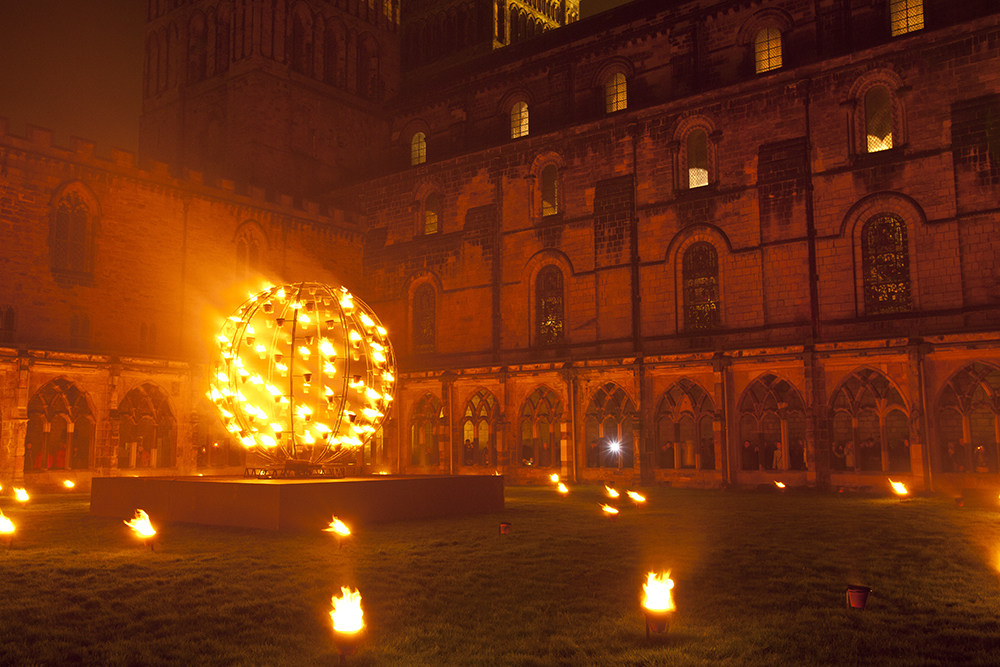 The giant glittering snow globe I Love Durham by Jacques Rival (France) joins the atmospheric sculpture CLOUD, formed from 6,000 incandescent light bulbs by Caitland r.c. Brown & Wayne Garrett (Canada).Fire alchemists Compagnie Carabosse (France) return to illuminate Durham Cathedral and its surrounding grounds with Spirit, whilst Newcastle based creative studio NOVAK (UK) will once again transform Durham Castle into a fairytale village with Fool's Paradise. The River Wear will welcome back Fogscape #03238, the mysterious nocturnal fog sculpture by Fujiko Nakaya (Japan) and Simon Corder (UK), whilst the majestic Mysticète by Top'là Design/Catherine Garret (France) will resurface upstream near Pennyferry Bridge. 
Lumiere will also feature the return of two of the festival's outstanding site-specific works – Cosmic Architecture by Nina Dunn & John Del' Nero (UK) projected onto Durham University's Ogden Centre for Fundamental Physics and For the Birds, a collection of installations drawing visitors through the urban wilderness of Durham University's Botanic Garden.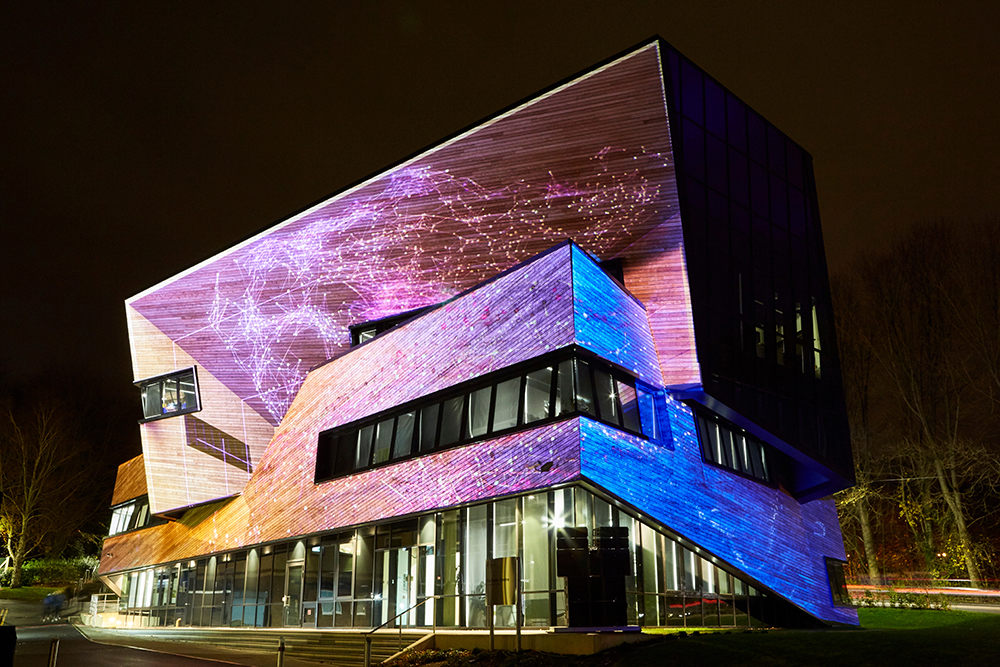 Five winning artworks from past editions of the BRILLIANT competition, launched in 2011 to support talent in the North East, are also included in the programme: Fusion by Mick Stephenson (UK); Sanctuary by Sarah Blood (UK); Big Knitting by Victoria MacLeod (UK); The Stars Beneath Our Feet by Louise Mackenzie (UK) and Harmonic Portal by Chris Plant (UK).
Installations on display for this year's festival join three permanent artworks which have already become part of the fabric of the city. Helvetictoc by Tobie Langel (Switzerland) has been telling the time in Millennium Place since 2013, while Lightbenches by Bernd Spiecker for LBO (Germany) has been encouraging passers-by to take the weight off their feet since2015. Installed following Lumiere 2017, Heron by Jon Voss (France) continues to capture a fleeting moment in time – the unfolding wings of one of Britain's most iconic birds.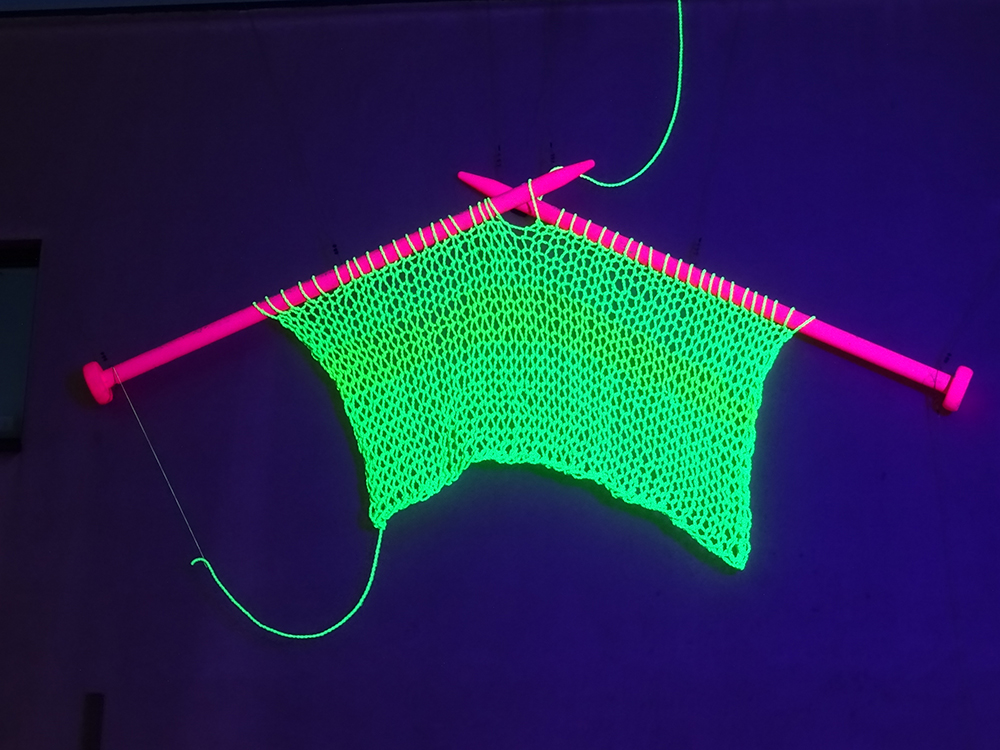 Navigating the festival
Lumiere takes place from 14th – 17th November and is open each night between 4.30pm and 11pm. A free ticketing system is in place to access the central peninsula of the city for the peak hours of the festival (4.30pm – 7.30pm).
Free peak hour tickets will be available to collect in person from Gala Theatre & Cinema and Libraries and Leisure centres across the county and book online via the Lumiere website from 10am on Monday, 28th October. Find out more about tickets for Lumiere. 
Lumiere app
We're thrilled to announce that this year a new Lumiere app is available, powered by This is Durham with support from Light Up the North, to help guide visitors around the festival and make the most of their visit to Durham. You can download it for free at from the Apple app store (iOS) or Google Play (Android).
Programmes 
10th anniversary festival programmes priced £2 are available from from Gala Theatre & Cinema, Durham and ten Libraries and Leisure centres across the County Durham. 
You will also be able to purchase a programme online via the Lumiere website from Monday 28th October. 
Programmes will also be available from the Lumiere Visitor Hub in Millennium Place. The Lumiere Visitor Hub will be open from Saturday 9th November between 11am and 5pm and between 12pm and 11pm from Thursday 14th November until Sunday 17th November and in several locations across the city during the festival's four nights.