March 21, 2019

Mader Wiermann: Transforming Places and Perceptions
Berlin-based duo, Mader Wiermann create amazing art installations which play with our perceptions of space. We take a look at some of their transformations of architecture in cities around the world. 
Artificial light transforms the way we experience our urban environments, from the security of street lights to the beauty of aesthetically-lit architecture. For Berlin-based artists, Mader Wiermann, the power of light lies in its ability to play with our perceptions and create new spaces. Architect Heike Wiermann and digital artists Holger Mader began working together in 2001, initially with Alexander Stublić, and as a duo from 2013 onwards. They've created installations in cities around the world from São Paulo to Berlin, including the first UK showings of their works, Grabber and Frictions for Lumiere London in 2018.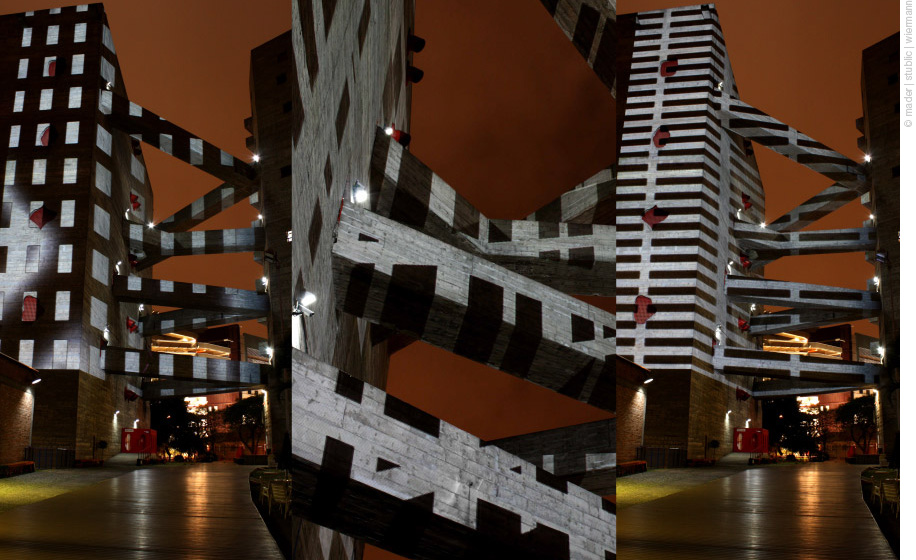 A projection is usually thought of as a separate illusion from its underlying surface; a film lit over a screen. Yet through Mader Wiermann's use of using 3D animation, video-mapping and sound, the worlds of image and structure collide, blurring into each other. At night, when the silhouettes of city buildings blend into the sky, Mader Wiermann's artworks temporarily transform solid, static structures into fluid, folding shapes.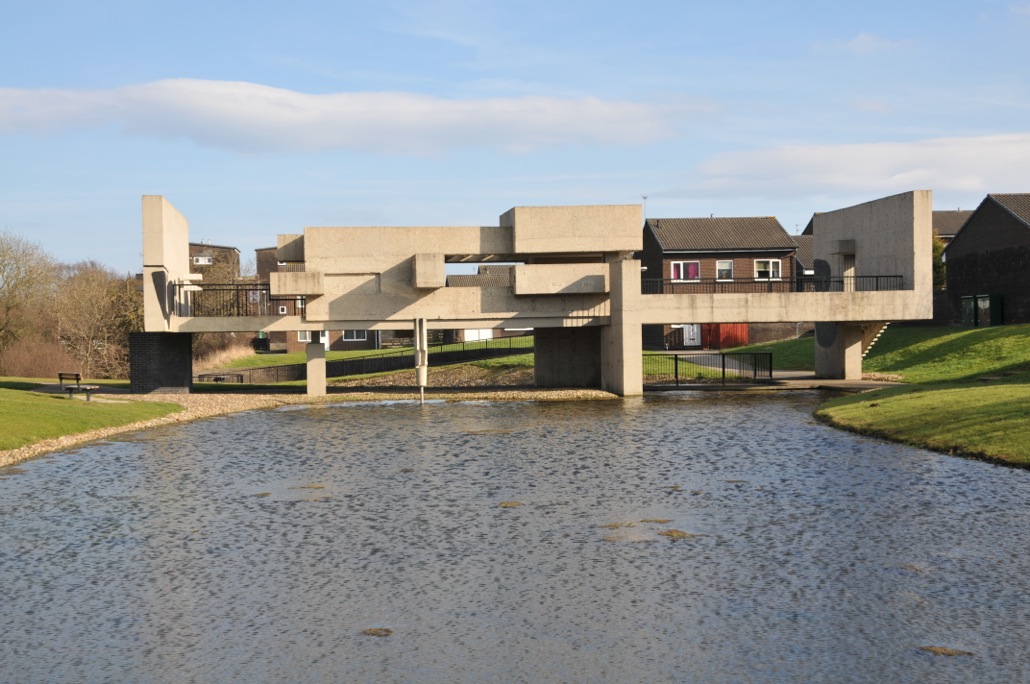 Artichoke is delighted to be bringing a unique, new artwork by Mader Wiermann to the North East. On 22 and 23 March from 6.30pm – 9.30pm, as part of Durham's Year of Culture their new work, Apollo 50, will transform Victor Pasmore's Apollo Pavilion. Join us in Peterlee to celebrate the 50thanniversary of this architectural icon, one of the UK's most famous examples of Brutalist abstract art.
If you can't wait until the weekend you can enjoy video footage of some of Mader Wiermann's amazing artworks in cities around the world here.
Twists and Turns, Mader Wiermann with Alexander Stublic, 2006
Twists and Turns was created for the Uniqua Tower in Vienna. The video-feed, a grid of moving lines, was created using the structure of the building itself. This artwork temporarily turns the tower into an abstract, modulating form.
4D House, Mader Wiermann with Alexander Stublic, 2010
4D House was a site-specific artwork for the inner harbour in Duisburg in Germany as part of the 'Twilight Zone' exhibition. The installation continually reinvents the architecture of the structure, moving from flatness to three-dimensionality.
Movements, Mader Wiermann, 2016
Mader Wiermann created Movements for the Audi Pavilion in Wolfsburg. The video artwork reacts to the rounded form of the pavilion and reflects the motion of modulating water, setting the architecture into motion.