Scroll for more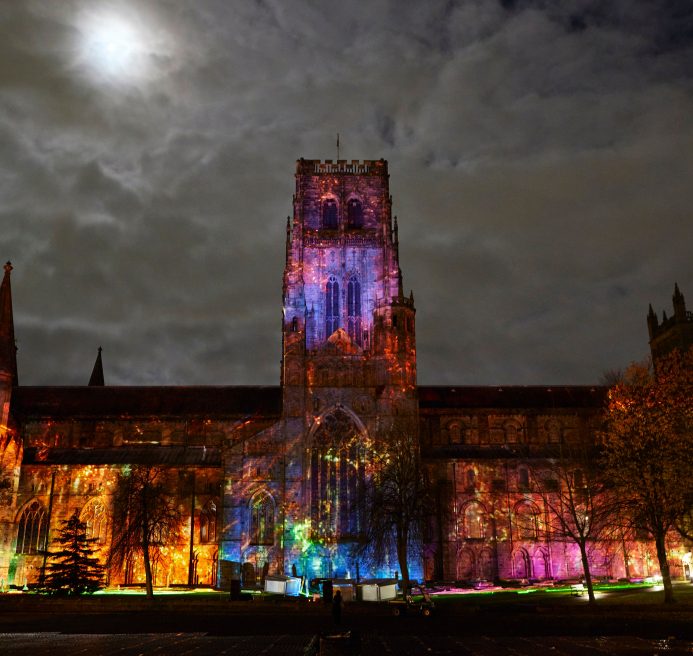 Tens of thousands joined us in Durham city and county under the light of the full moon
Commissioned by Durham County Council 
Lumiere festival was a triumph as people came together to enjoy the biggest outdoor event in the North East since lockdown
An estimated 140,000 visitors attended as Lumiere extended across County Durham as well as in Durham City for first time.
Lumiere is instrumental to County Durham's bid to be UK City of Culture 2025, demonstrating how the county fuses its rich heritage with its dynamic, inclusive and innovative approach to culture and arts. Produced by Artichoke, and commissioned by Durham County Council with additional support from Arts Council England, Durham University and a raft of funders and supporters, this was the most ambitious Lumiere yet.
For the first time since it began in 2009, Lumiere linked city and wider county through six bold commissions that transformed significant landmarks across County Durham from the Apollo Pavilion at Peterlee to Raby Castle at Staindrop.
In the city audiences explored 31 extraordinary artworks, ranging from 40-member LED French Rock'n'Roll band (The Froggs by Groupe LAPS) in Market Place, to the interactive Tree of Hope at Prince Bishops Place and online, to the quietly contemplative Anthology: Into the Light, featuring the voices of eleven leading poets as their words were beamed onto Durham Castle.
The festival continued in its international tradition, despite the limitations and increased costs imposed by COVID and Brexit, with artists from 11 countries across the world bringing their extraordinary vision to Lumiere.
Inspired by themes ranging from the pandemic to the environment, and from medieval to modern, the artists re-imagined public space and historic monuments using all manner of light.
One visitor declared the event on Twitter to be: "Dazzling, dramatic…next stop #Durham 2025" Another said: "Especially love the interactive works at Lumiere, they bring out the big kid in everyone". 
Durham County Council, Culture Durham and Durham University are leading County Durham's bid to be UK City of Culture 2025.
To find out more about Lumiere 2021 and see the highlights from the festival, visit the Lumiere website and follow @artichoketrust Twitter, Facebook, TikTok, Instagram and YouTube.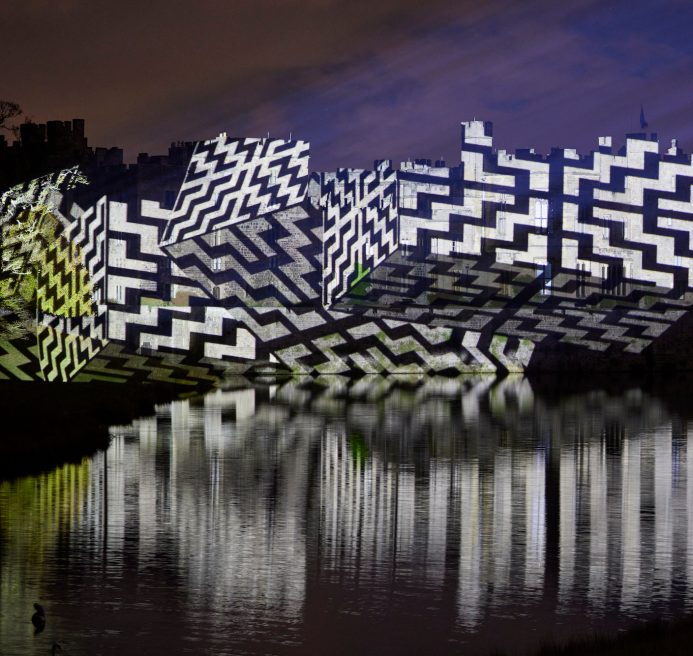 For the first time, the festival extended beyond Durham city into the wider county
Six international light artists were invited to respond to iconic interventions in the landscape across County Durham. 
Castle of Light at Raby Castle was the firm favourite of the county programme, with thousands turning out to see this popular attraction spectacularly transformed by artist Javier Riera into ever-changing geometric patterns.
At Finchale Priory, locals who had never before visited despite living close by, flocked to see how Kari Kola had painted the ancient monastery with light. Others took the once-in-a-lifetime opportunity to view Penshaw Monument appear illuminated like a floating chariot in the sky, in Elaine Buckholtz and Ian Winters' majestic memorial to those lost to Covid, accompanied by the haunting music of Hildegard of Bingham.
Lumiere in the community
Alongside international and UK artists, community groups were at the heart of the festival, taking part in five creative projects
A total of 685 people took part including school children, mental health service users, veterans and young carers. Local people's stories and handiwork helped build the imaginary City of Light, City of Stories, while others transformed ordinary household plastics into beautiful mosaic flowers for Plastica Botanica, a series of flower chains that hang across the South Bailey.
Students from Durham Federation school moulded their words in neon for Article 12, an amazing art-science project that references the UN Convention on the Rights of the Child.




Article 12
Article 12 was a Learning & Participation project as part of Lumiere
We worked with a group of year 10 students at Durham Federation school in collaboration with Yorkshire-based Neon Workshops and writer Lucie Brownlee to light up the students own words in a series of text light neon artworks, which were displayed on Saddler Street at the festival.
Article 12 was generously supported by Atom Bank, County Durham Community Foundation, Ragdoll Foundation and The Barbour Foundation.
Filmed and edited by Allies Group.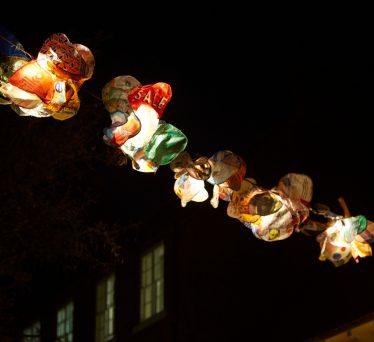 Supporters
Thank you to our supporters who have given so generously to help Artichoke produce Lumiere
Artichoke is a registered charity and every penny received from the public, businesses, trusts, and foundations goes directly towards the festival and keeping it accessible for everyone to attend.