Scroll for more

A once-in-a-lifetime mass participation artwork to mark one hundred years of votes for women
In 1918, the Representation of the People Act gave the first British women the right to vote and stand for public office. One hundred years on, we invited women and girls across the UK to come and mark this historic moment as part of a living portrait of women in the 21st century. 
On Sunday 10 June 2018, the streets of our four UK capitals, Belfast, Cardiff, Edinburgh and London, were transformed into vast rivers of green, white and violet as tens of thousands of women and girls converged to mark 100 years of the first British women voting. PROCESSIONS was a moment for celebration and reflection and a living portrait of what it means to be a woman today. 
PROCESSIONS was based on an idea by creative director Darrell Vydelingum.
Commissioned by 14-18 NOW, the UK's arts programme for the First World War centenary, with support from the National Lottery through Arts Council England and the Heritage Lottery Fund and from the Department for Digital, Culture, Media and Sport.
PROCESSIONS Cardiff was produced by Artichoke in partnership with Festival of Voice and Wales Millennium Centre.






Listen to PROCESSIONS banner making expert Clare Hunter talk about banner making through the ages
You can listen to an introduction to the remarkable history of banner making through the ages from Clare Hunter, our PROCESSIONS banner making consultant and author of Threads of Life.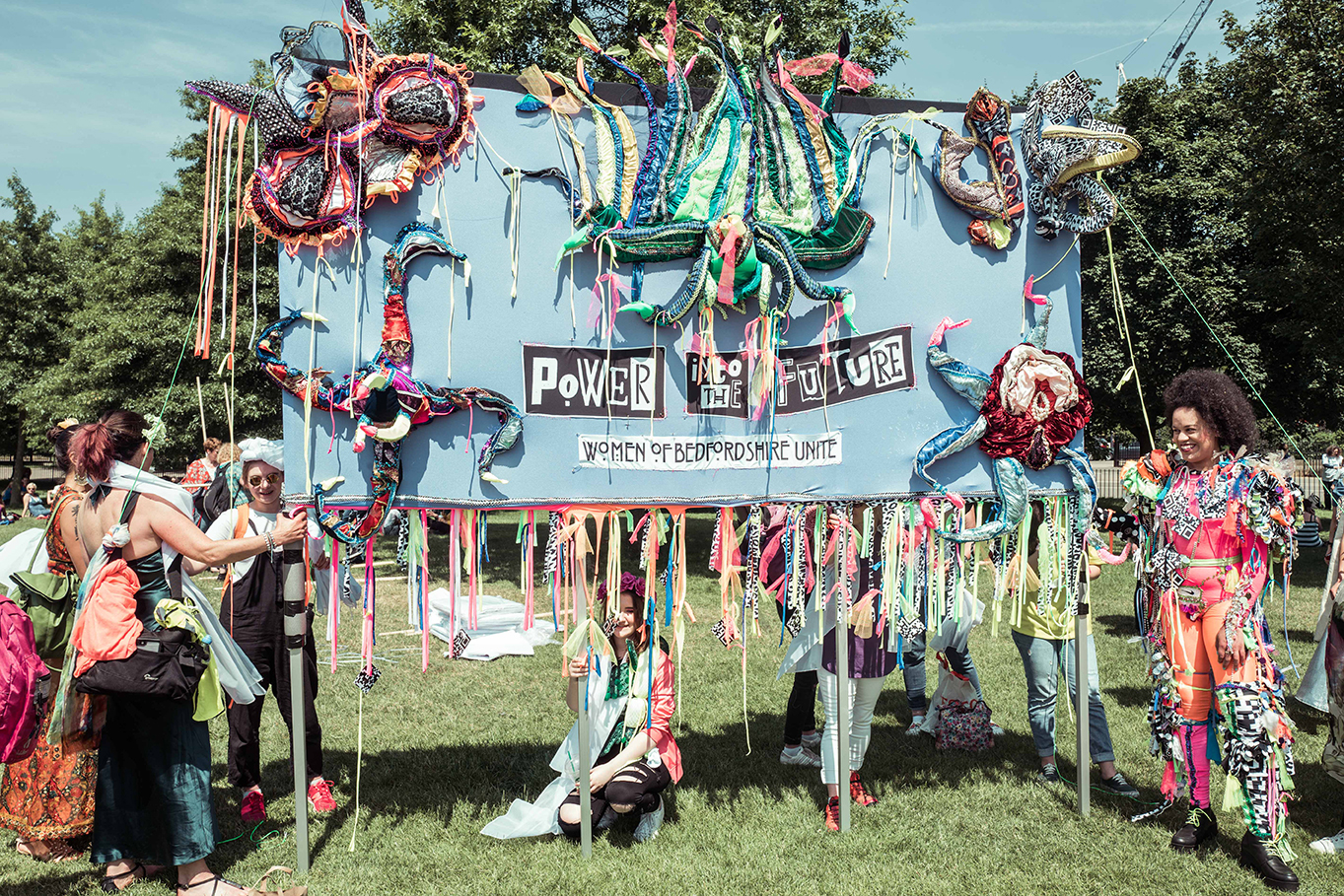 Many of the women and girls who took part in PROCESSIONS brought handmade banners with them, taking inspiration from those made by the suffragists and suffragettes 100 years earlier. These twenty-first century artworks were powerful statements made in text and textile, referencing earlier struggles for equality and reflecting modern-day concerns of women and those identifying as women. 
Some of the banners held high on that memorable day were made by 100 arts and community organisations from across the UK. The groups were invited by Artichoke to work with women artists of their choice to make banners as part of an extensive public programme of creative workshops. 
Organisations representing a huge diversity of women and girls contributed banners included the LGBT Foundation, Women in Prison, Southall Black Sisters, Girlguiding UK and the Institute for Conflict Research in Belfast. 
Artists
As part of the '100 Years 100 Banners programme', Artichoke commissioned 10 artists to create banners with UK organisations.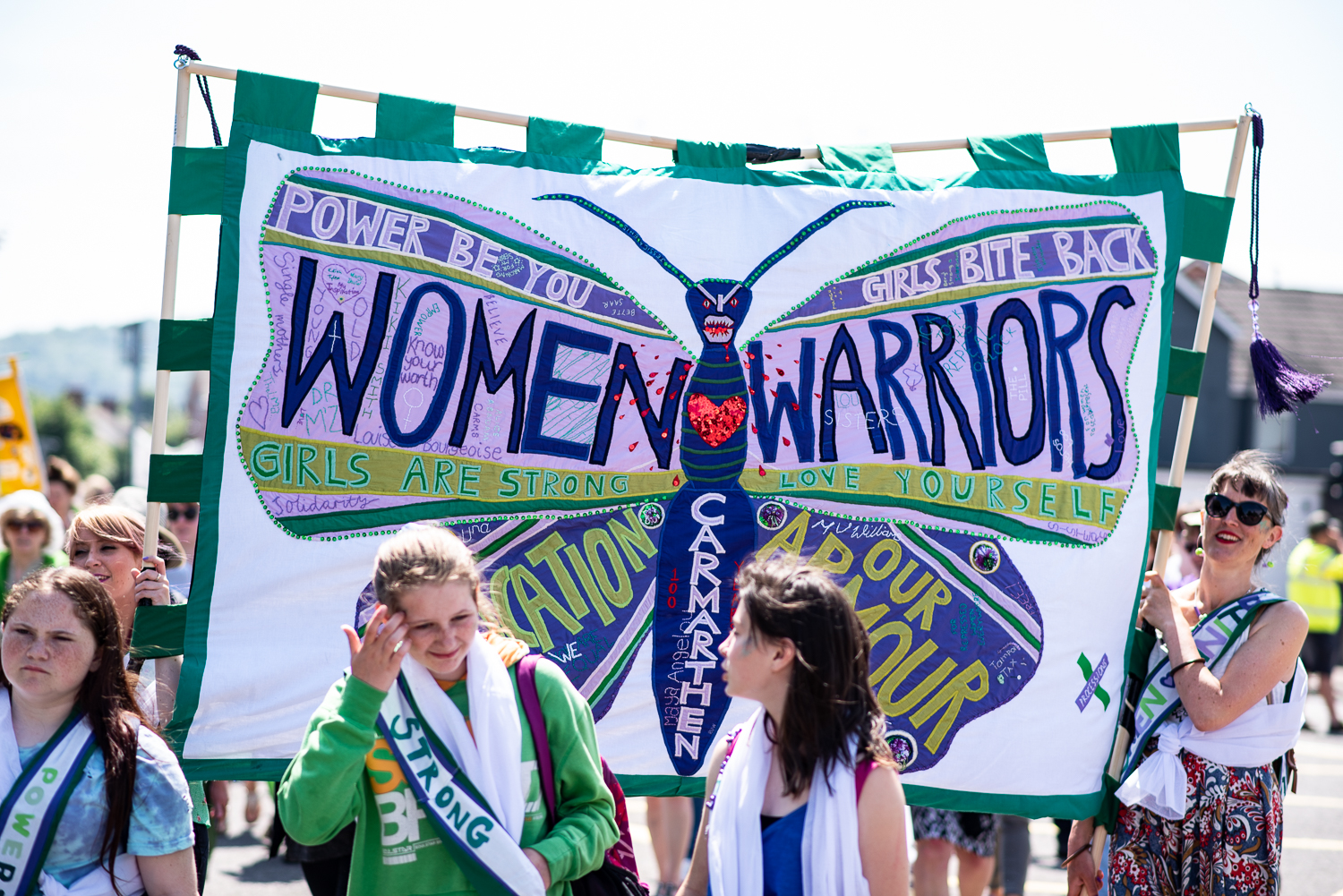 Listen to Artist Bobbi Ray Purdy talk about taking part in PROCESSIONS in Belfast
Artist Bobbi Rai Purdy worked with Prime Cut Productions, which was one of 100 organisations, including 14 from Northern Ireland, in which female artists were paired with groups of women and girls to help share their voices through text and textiles.
Based in Belfast, Prime Cut Productions is one of Ireland's leading independent theatre companies.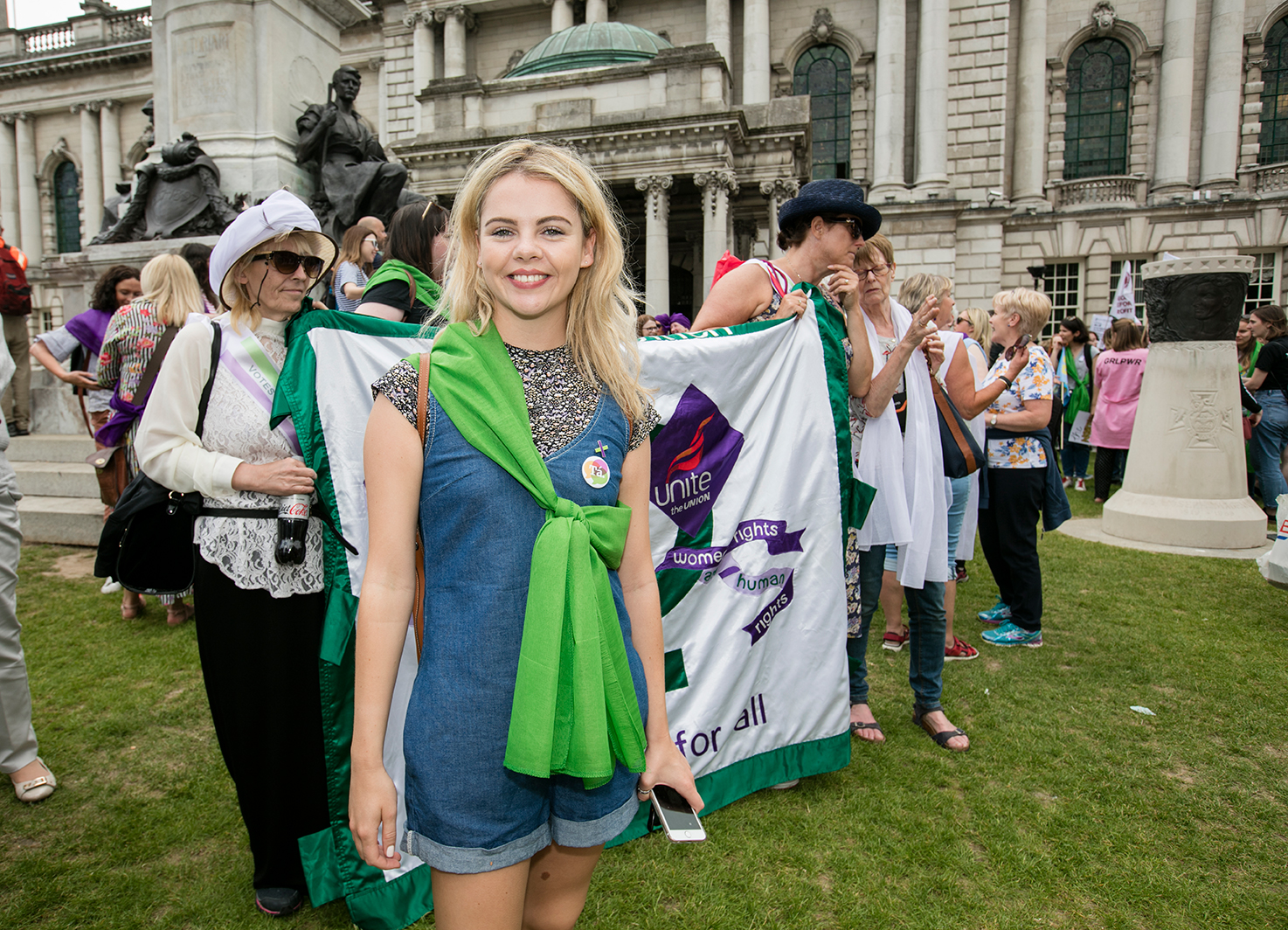 In Belfast, actor Saoirse-Monica Jackson from the Derry Girls series participated alongside Councillor Deirdre Hargey, the recently appointed Lord Mayor of Belfast, and Paralympic champion Kelly Gallagher. 
At the front of the procession of 6,000 participants was the banner by the Institute of Conflict Research with Rita Duffy, whose creation was a modern adaptation of Botticelli's The Birth of Venus.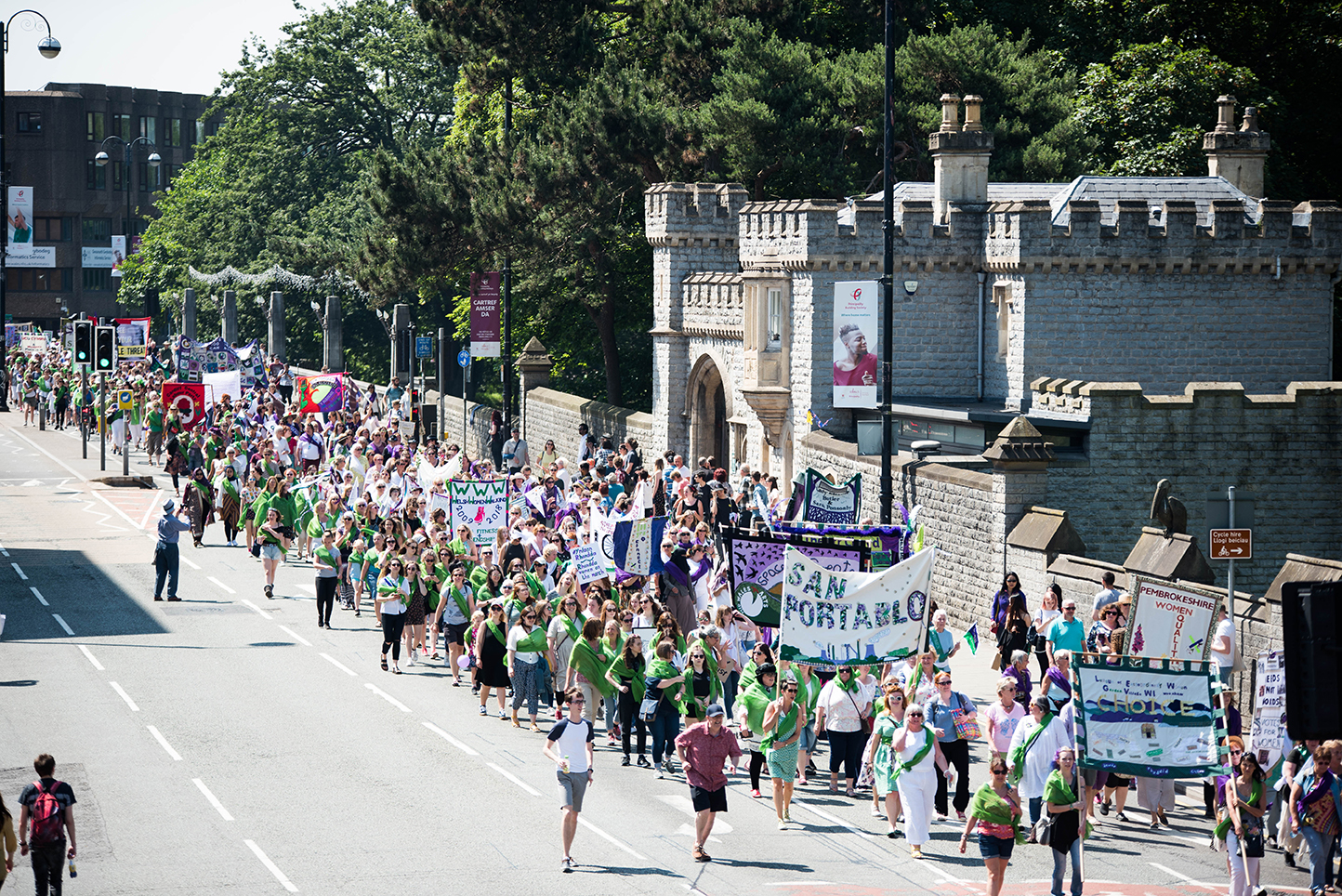 In Cardiff, over 9,000 participants were joined by former Plaid Cymru Leader Leanne Wood. Emmeline Pankhurst's great-great-great niece Louise Helen Johnson, who only learnt of her suffragette ancestry when she was 30 years old, also joined the march. 
You could often see three generations of one family in the procession in Cardiff, walking to the sound of music performed by choir Only Menopause Aloud and women from the band Symphonic Brass Wales.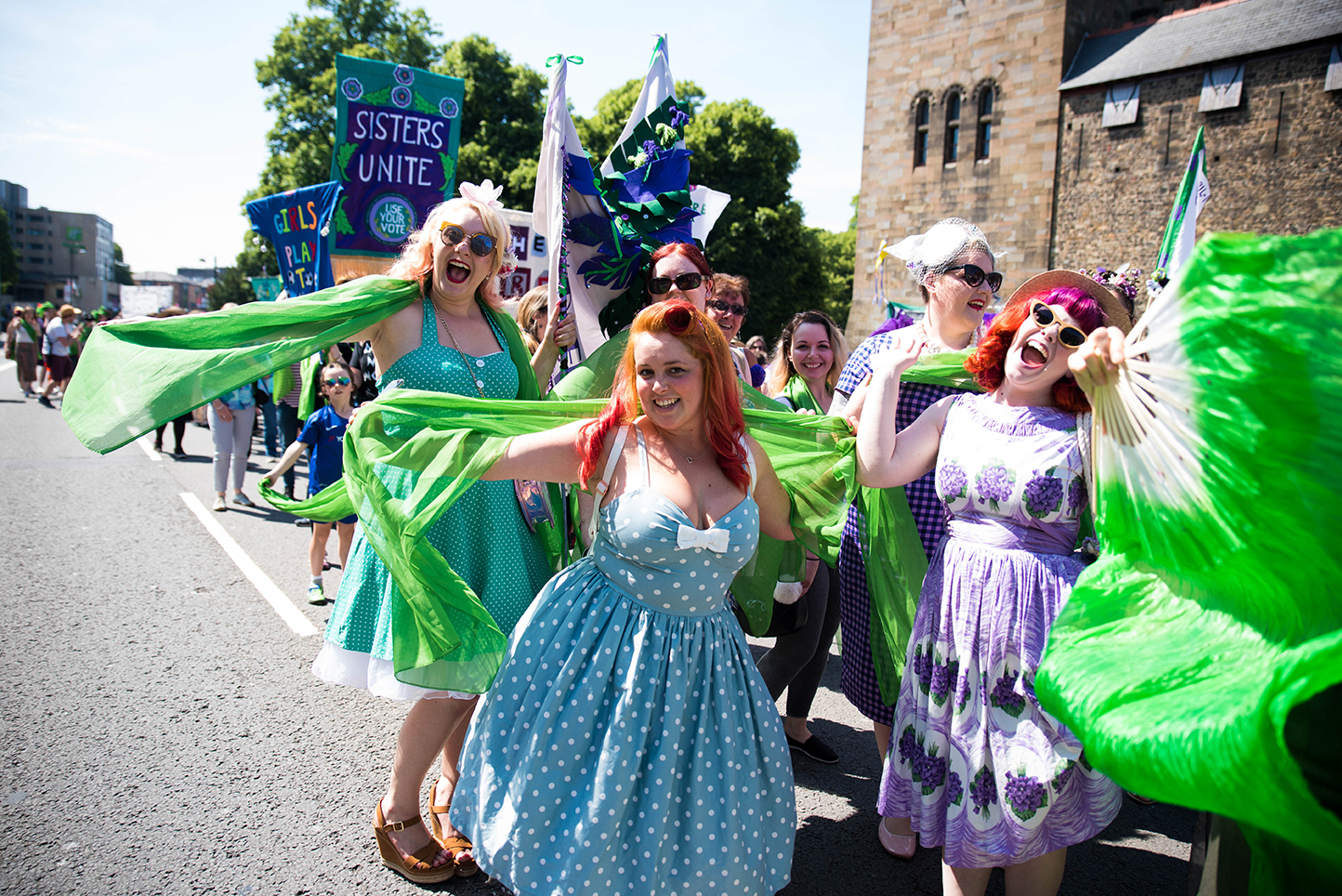 PROCESSIONS 2018 Cardiff, an Artichoke Project Commissioned by 14-18 NOW, photo by Sian Owen
Listen to Soizig Carey, Arts and Cultural Development Officer, Scottish Refugee Council talk about women with refugee status taking part in PROCESSIONS
At the time of making the banner, most women in the group didn't have the right to vote in the UK. Some had refugee status, some were still in the asylum system. The group didn't feel they could celebrate women's suffrage when women are still excluded a full 100 years after the 1918 legislation and the many other ways society excludes women from refugee backgrounds. Instead, they talked about what it means to participate in society, to have a voice, to have a say in things that matter to our daily lives. 
The Scottish Refugee Council is an independent charity dedicated to supporting people in need of refugee protection.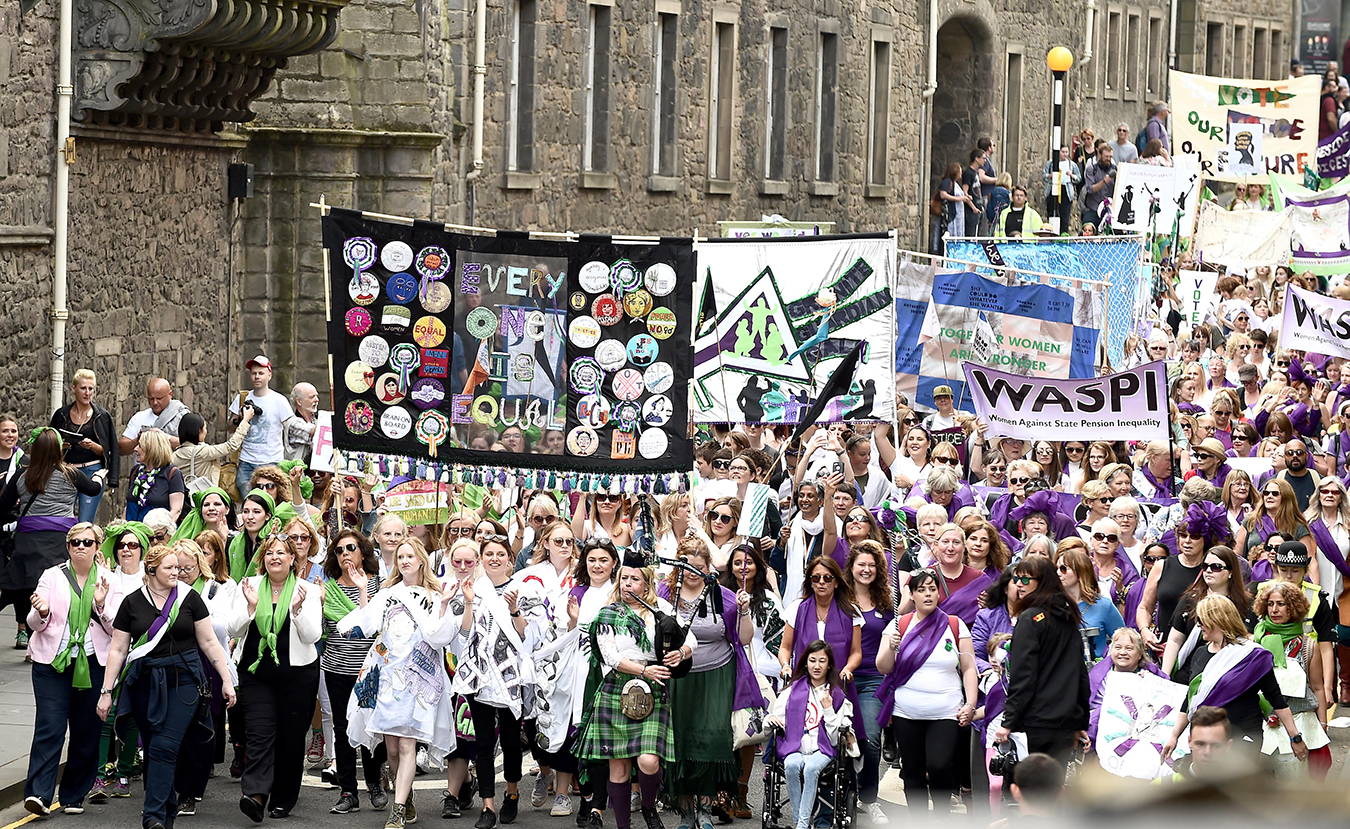 In Edinburgh, 15,000 participants travelled from far and wide across Scotland. One group travelled almost 400 miles from Shetland to attend on the day. Another group from the North East, who worked on individual sections of their banner, met for the very first time in Edinburgh and walked together underneath the finished creation. 
The procession was led by the Lord Provost of Edinburgh's official piper Louise Marshall, playing homage to lone female piper Bessie Watson who led a procession along Princes Street in 1909. You could see participants beaming with pride walking and chanting all the way along the 2.5 mile procession.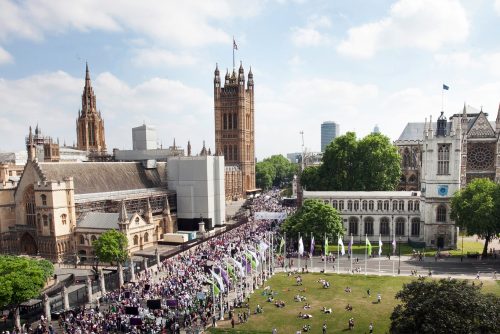 In London, our Artistic Director and CEO Helen Marriage was joined at the front of the procession of almost 50,000 by Helen Pankhurst, great-granddaughter of Emmeline Pankhurst. Women and girls travelled to London, bearing banners representing groups from counties up and down the country, with slogans such as 'Power into the Future', 'We're Here Because of Her' and 'Women Make History'. 
Amongst the banners, was an artwork by Southall Black Sisters, featuring Indian Princess and Suffragette, Princess Sophia Duleep Singh. There was also a banner made by students of London College of Fashion, with Historic England, Lucy Orta and the inmates of HMP Downview.
Listen to Carole Miles and Phiona Richards from Made with Many describe the experience of taking part in PROCESSIONS
Made with Many hosted an 8-week series of workshops with artists The Eloquent Fold for local women and girls, mothers and daughters to try their hand at creating a unique textile banner. Their banner celebrated the individual and collective strength, grace and intelligence of women, especially the women of Corby. 
Made With Many is a community-led arts programme based in Corby in Northamptonshire. They were one of 100 organisations invited from all over the country to take part in PROCESSIONS, in which female artists were paired with groups of women and girls to help share their voices through text and textiles.
PROCESSIONS Banner Making Workshops
Film of a workshop led by artist, Heather Agyepong at Harris Dulwich Girls School in London. 
As part of the 100 Years 100 Banners programme, Artichoke commissioned 10 artists to create banners with UK organisations. Heather Agyepong worked with students at the school to create a West African inspired commemorative cloth celebrating WOC activists. 
Listen to Heidi Wigmore talk about working with students at The Deanes school in Essex
Artist Heidi Wigmore collaborated with Metal Culture to work with students at The Deanes school in Essex. The group created a banner celebrated the girls' multiple identities and 'creative selves'. It was an assertive, self-assured response to the pressure they all feel from social media to be 'perfect'. Together, they created the slogan, which is a positive rallying cry to girls everywhere.
Metal Culture work from buildings of historic significance that we have transformed from empty or derelict spaces into vibrant cultural community hubs. They support artists from the UK and overseas, working in all disciplines.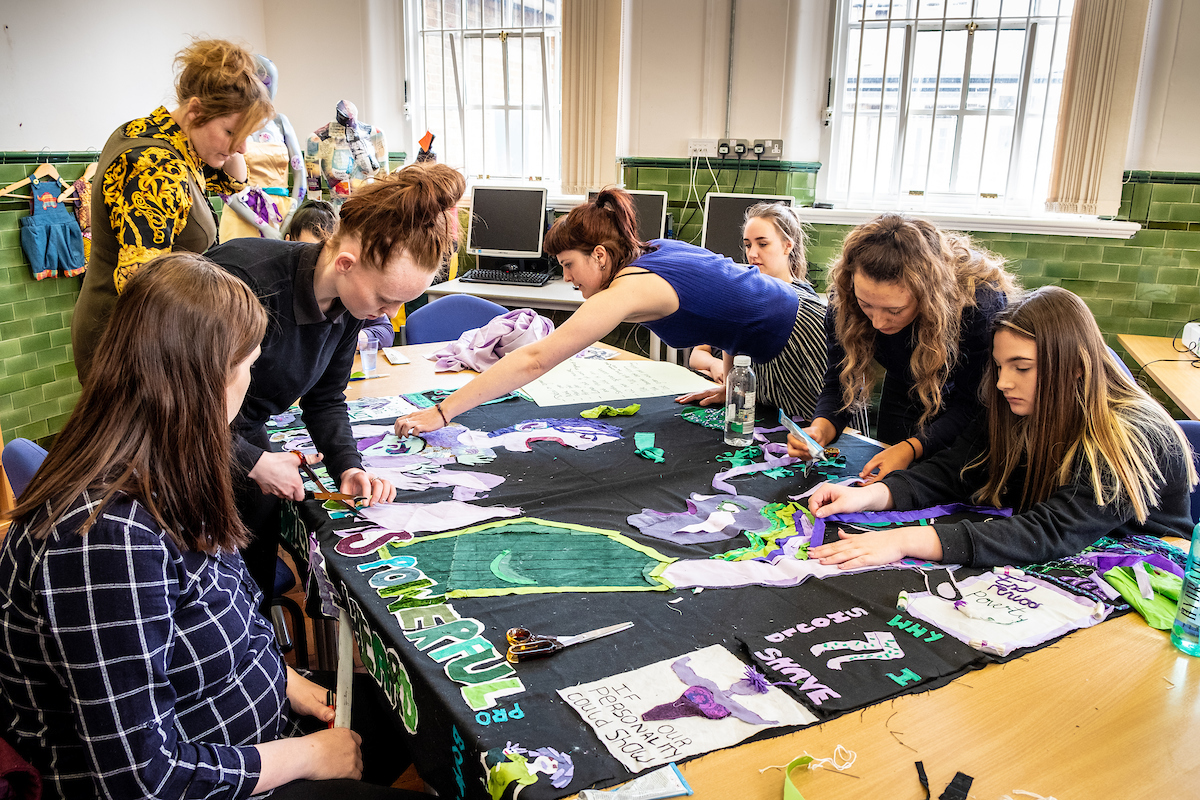 Artlink Hull, PROCESSIONS workshop, May 2018. Photo by Artlink Hull.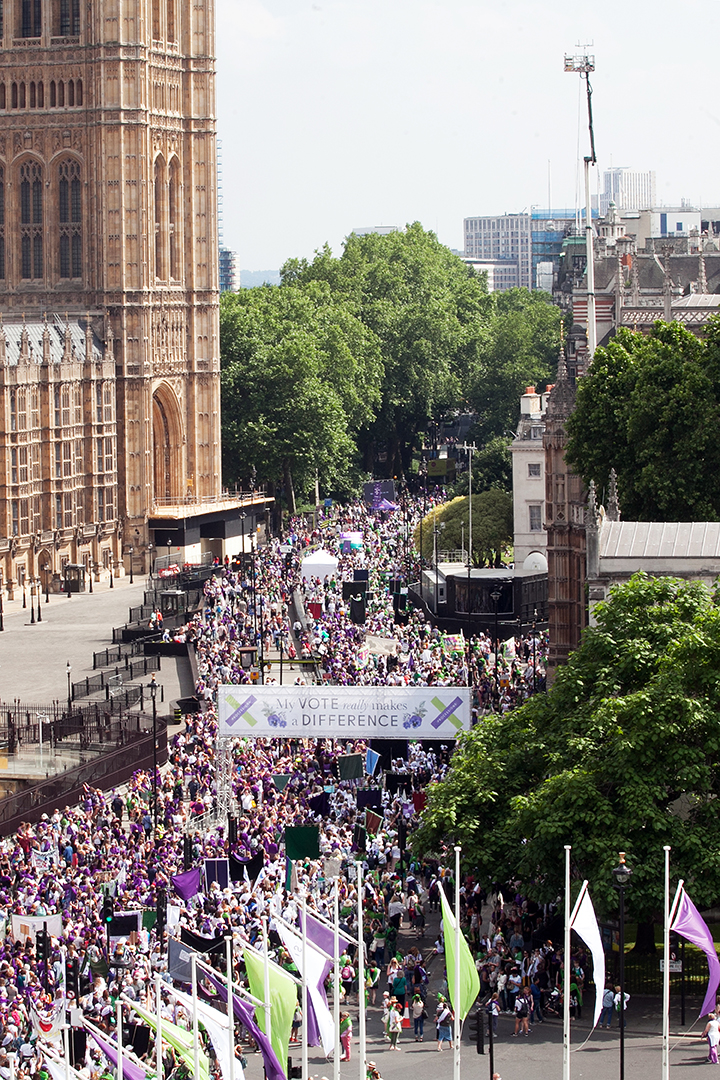 PROCESSIONS 2018 London, an Artichoke Project Commissioned by 14-18 NOW, photo by Sheila Burnett
The legacy of PROCESSIONS continued with the banners created by these groups displayed at Artichoke's Women Making History exhibition at London Scottish House from 2 June – 11 July 2021.
The exhibition provided an opportunity to reflect on the PROCESSIONS banners' calls for equality, to examine the pace of progress and to be inspired to keep pushing for change.
The companion volume to the exhibition Women Making History, published by Artichoke and Profile Editions, is available to buy. The book features full colour images of all the banners as well as new essays by inspiring women including Jenny Waldman, June Sarpong and Clare Hunter.
The PROCESSIONS banners are also available to view remotely on Google Arts & Culture.