A radical arts project in Derry~Londonderry.
Bonfires have long been a part of Northern Ireland's history. To some they are a time-honoured tradition, to others they create tension and division.
Artist David Best has a reputation for constructing huge, soaring temple structures at Burning Man in the Nevada Desert. Built with his volunteer Temple Crew, the structures have become a place for remembrance, their ritual burning an opportunity to let go of painful memories.
Artichoke planned to bring David to Derry~Londonderry to build a shared structure that would enable the local community to let go of the past and look to the future.
Over two years, we worked to realise the project. A Kickstarter campaign raised over £30,000 in 40 days. Finally, David arrived in early 2015 with his Temple Crew to begin work.
Joining 40 local unemployed volunteers, the team battled through rain, snow and high winds to build the 72ft high structure. Its timber frame was clad with intricate panels, some of which had been designed and cut by young people in the Nerve Centre's Fablab.
Temple belonged to everyone: from the donors around the world who supported the project to the many people across Derry~Londonderry who helped build the structure and every single person who came to see it. 
Up to 60,000 people visited over the seven days it was open, covering the inside of the structure and its central pillar with personal messages. They included a delegation from the Tim Parry Johnathan Ball Foundation for Peace, founded by families of victims of the 1993 IRA bomb attack in Warrington, and the family of PSNI Constable Philippa Reynolds, who was killed in 2013 when a stolen 4x4 vehicle crashed into her police car in Derry, as well as many family members from all sides of the 'Troubles'.
On Saturday 21st March the structure was ceremonially set alight by eight individuals Best had got to know over the course of the build: Tony Doherty, Rossa O'Dochartaigh, Michelle McClaren, Paula Higgins and her son, Emma Diven, Bronah Mclaughlin and Kevin Strathern. 15,000 people watched Temple burn, as the hopes and dreams of thousands drifted into the sky.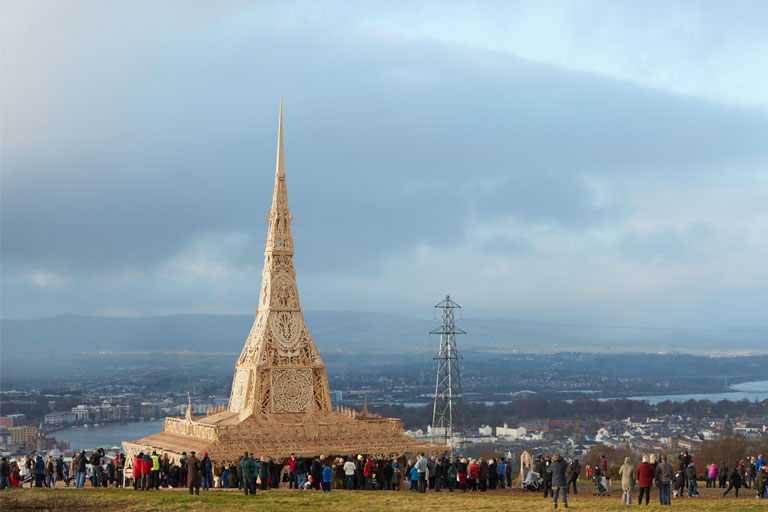 Number of young apprentices

40

Local carpenters

4

Templecraft users

400
Number of local volunteers

98

Volunteer Temple Guardians

45

Members of Californian Temple Crew

21
Temple Stories Participants

20

Decorative panels

300

Amount raised (Kickstarter)

£30,000
Templecraft
Templecraft was an innovative digital arts project inspired by a monumental real –world construction.
Using Minecraft, artist Adam Clarke, BlockWorks and Sparks built a digital reconstruction of David Best's Temple, replicating its startling architecture and intricate internal spaces. Mapped onto a representation of the city of Derry~Londonderry, this extraordinary digital artwork created the impression of a 'Temple' high on a hill, towering over the city below. Minecraft players were then invited to explore the structure online, and leave their own messages, mementos or objects inside its walls, before it too was ceremonially 'burned' online on Saturday 21st March. Nothing was left behind.
This was an opportunity for the world-wide Minecraft community to experience and participate in a major temporary art work, and for new users of the software to explore a beautiful digital landscape.
Commissioned by Artichoke and The Space in collaboration with CultureTECH.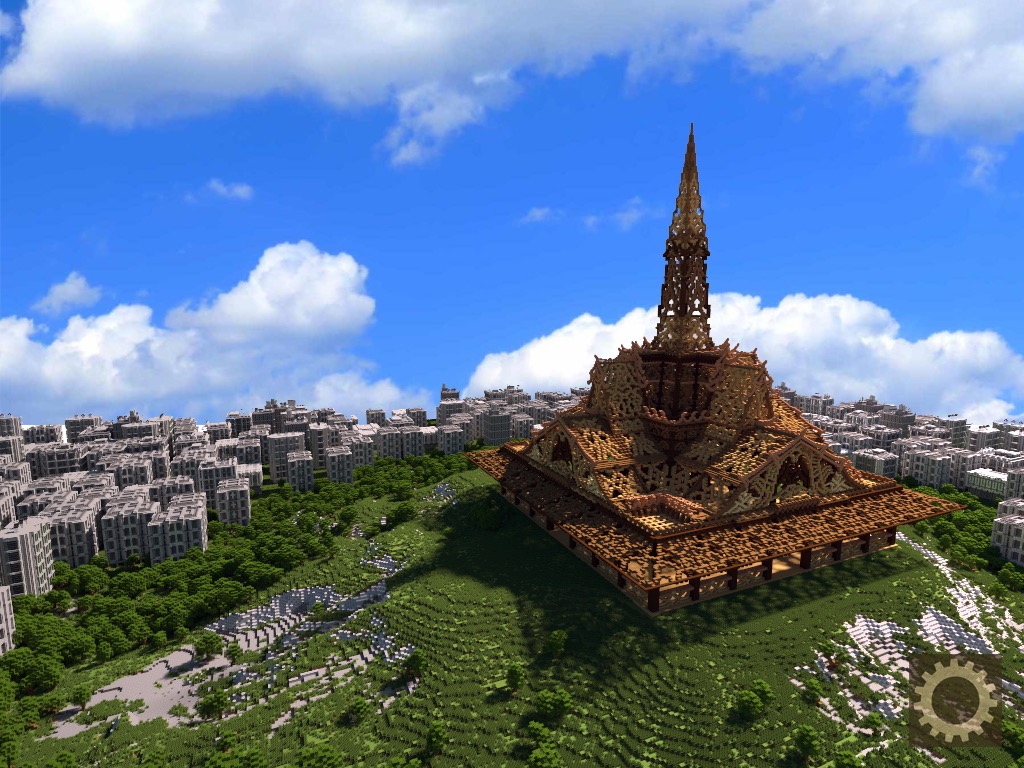 Temple Stories
To document the project, 20 volunteers working on the build were given video cameras.
Under the direction of award winning filmmaker Margo Harkin and her team, the resulting series of films and documentary offer a unique insight into the process.