It began, and ended with a rocket.
 Arriving overnight, appearing to have crash-landed into the middle of the road, there were few clues to what was about to happen. A giant girl and a giant elephant had arrived unannounced for four days of adventures across London.
Artichoke had worked in secret for seven years, planning, convincing and cajoling the public authorities to make the project happen. For the first time, streets normally reserved for state occasions or sporting events were taken over by art. At Trafalgar Square, St James's Park, Horse Guards Parade and Piccadilly, audiences followed the journey of a giant girl and her travelling companions, the Sultan and the Elephant. Along the way they discovered cars that had been 'sewn' into tarmac with a giant needle and waved the girl past as she enjoyed a tour atop a red London bus. They were sprayed with water from the Elephant's trunk. Leaving in the rocket she arrived in after four magical days, the girl finally disappeared in a puff of smoke.
The Sultan's Elephant changed the landscape for outdoor art forever and catapulted Artichoke into the public eye.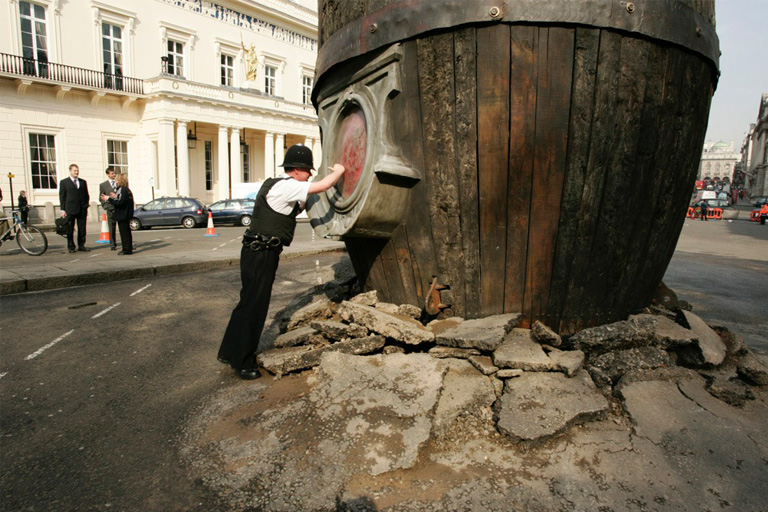 The Sultan's Elephant Statistics
Pedestrian crossings removed

5

Members of Royal de Luxe

115

UK production team

150 people

Reclaimed poplar used to construct the elephant

50m²
Height of the elephant

11.2m

Weight of the elephant

42 tonnes

Speed

1.5km per hour

Leather used to make the elephant's ears

80m²
Number of volunteers

50

Height of the little girl

5.5m

Audience

1 million (BBC estimate)

Miles of streets closed on route

5