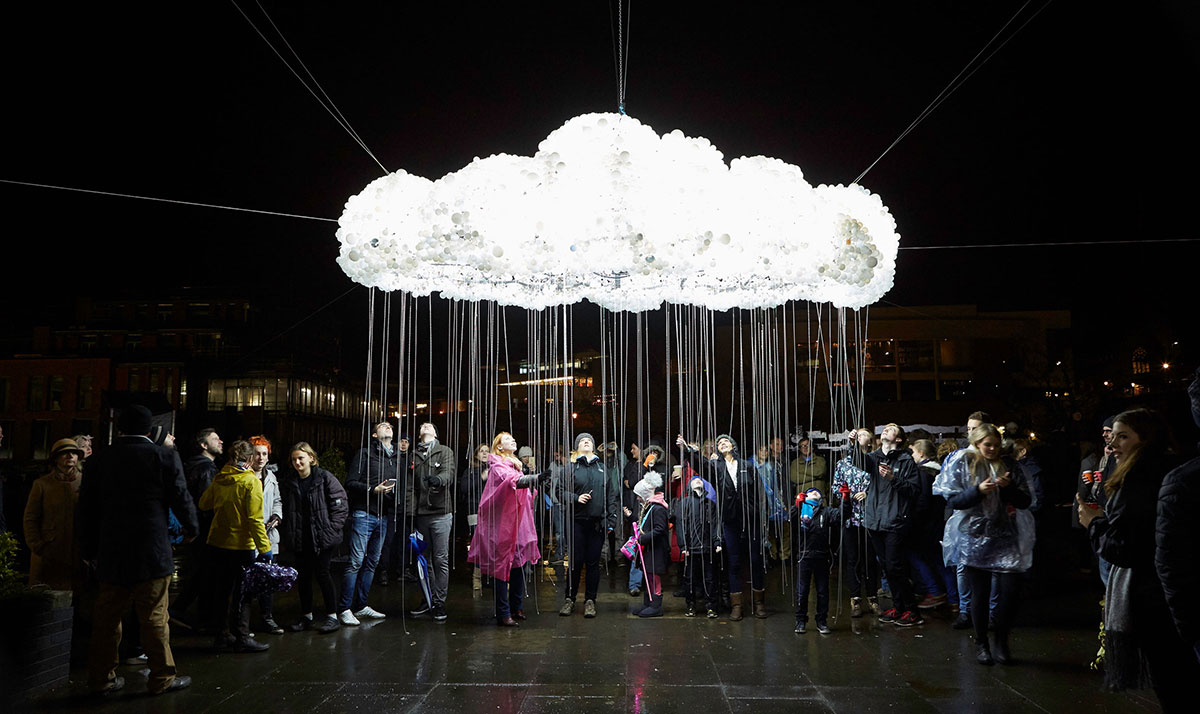 Artichoke's events are free for everyone to experience, but expensive to produce. We are a registered charity and our projects are entirely dependent on funding from individuals and organisations.
If you believe in our mission to make art accessible to all, you can help us continue our work by signing up for a one-off or regular donation. Any amount you give will make a difference to our work, no matter how large or small.
With a regular donation of £60 per year or more, you will become a member of the Artichoke Hearts, a circle of our closest friends and supporters. As a Heart, you will receive regular updates from behind the scenes and special invitations to our parties, talks and tours.
Many of our Hearts decide to give £60 per year (or £5 per month), several choose to donate £100 per year and some choose to contribute £500 per year.
Be part of the Artichoke journey by making a donation.
Contact
If you would like to talk to us before deciding whether to make a donation, please contact:
Senior Development Manager – Trusts & Individuals
+44 (0) 20 7650 7611
We need your help to continue to:
Create extraordinary art for all

Support groundbreaking artists

Transform urban landscapes

Change young people's lives

Bring communities together
Artichoke's projects welcome hundreds of thousands of people to enjoy extraordinary art in cities, the countryside and on coastlines around the UK. Artichoke's events offer audiences from all backgrounds the chance to experience installations by leading artists for free.
Our unique participation programmes also help young people and communities gain new skills and create spectacular artworks together with professionals.
Thank you to all our supporters, including those who wish to remain anonymous. Artichoke could not continue our work without you. 
Patrons
Dame Judi Dench

Margaret Atwood

Julie Christie

Tanni Grey-Thompson
A special thank you to
Ann and Barry Scrutton

George Kessler CBE

Stephanie Flanders
Amanda Haran

Andrew George

Andrew Macdonald

Ann Kenrick

Antoinette Sherratt

Arnab Basu

Bablu Miah founder of Trapped in Zone One

Brian Negus

Cathy Hirshmann

Christine Angus

Clive Attard

Crispin Longden

Dalwardin Babu OBE

David Micklem

Debbie Holmes

Denise Bachman

Ed Maggs

Elaine Atkinson

Francine Stock

Fraser Peet

Fritha Clutterbuck

Gerald Rothman

Geraldine Fairfax-Cholmeley

Ghislaine Kenyon

Heather Boyce

Helen Ewen
Helen Janecek

Helen Marriage

Hilary Hemming

Ian McKay

Ivo Dawnay

Jan Boud

Janey Elliott

Anna McManus

Jeremy Levison

Jeremy O'Sullivan

John Blackwell

Jon Gisby

Jon Cooke

Judy Bennett

Katherine Duerden

Katherine Hallgarten

Kathie Way

Katie Cullen

Lew Hodges

Liz Hobbs

Liz McCarthy

Louise Jeffreys

Lord Clive Hollick

Mark & Enyd Hutton

Melanie Fiander

Michael Noonan
Oona van den Berg

Patsy Rathbone

Paul Rhodes

Peter Tompkins

Rebecca Cody

Richard Kitson

Robert Chaplin

Robert Hughes

Robin Skinner

Ruth Hogarth

Sadie Holland

Sally & Mike Waterston

Sarah Coop

Sarah Gordon

Sarah Priday

Sarah Weir

Sasha Kosminsky

Sharon Howe

Sir Jeremy Dixon

Stella Hall

Stephen Valentine

Susan Henry

Tim Johnson

Valerie Barton

Zoe Davis
The VATable element of annual membership benefits is valued at no more than £6 (gross) per member. The value of benefits never exceeds 25% of the donation and is fully eligible for Gift Aid.