Scroll for more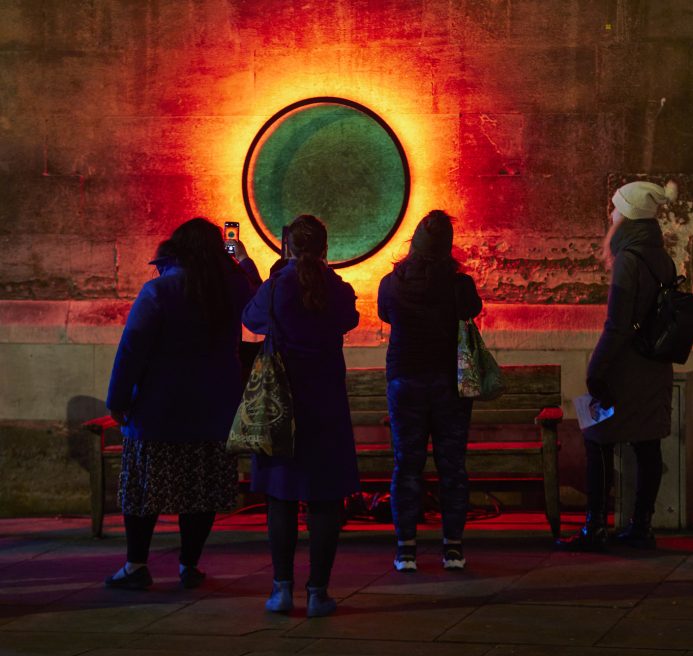 A fresh look at London with City Lights, a programme of light and sound installations which transformed the Square Mile
Produced by Artichoke for the Mayor of London in partnership with the City of London Corporation
A number of historic City of London sites were illuminated with inspiring and interactive artworks.
City Lights was part of the Let's Do London 'Spring into London' season of events and activities taking place across the capital.​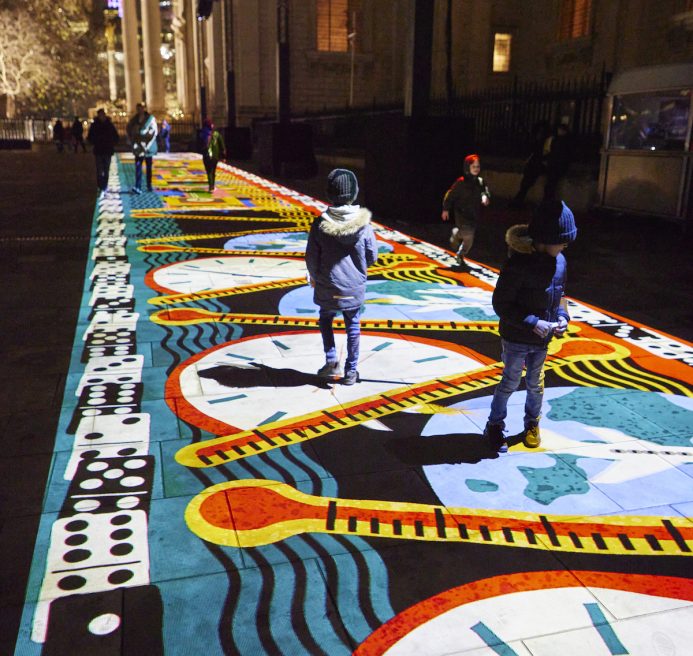 NOVAK in collaboration with Ed Carter and Hazel Dunn  
St Paul's Churchyard (Northside, by Temple Bar) 
Shape-shifting projections highlight the impact of human-led climate change on our planet. 
This light and sound installation invites you to reflect on the consequences of climate change as they unfold beneath your feet. Issues captured in the vibrant projected landscape and accompanying soundscape range from deforestation and bee extinction, to coral bleaching and global warming.  
An original soundtrack by composer Ed Carter creates a sense of constant motion and urgency. The score draws on climate and environmental data from 1880 to the present day, combined with recordings from the natural world that reference the changing visuals. 
Chris Plant  

 

St Mary Aldermary Church
A mesmerising meditation on sound, light and texture.  
Harmonic Portal seeks to piece together our fragmented world through a meditative exploration of the three frequencies used by our brains to create colour.  
The artwork was originally commissioned as part of the 2017 Lumiere BRILLIANT scheme which invited anyone originally from or currently living in the North East of England to submit a bright idea for a light installation. Since then, Harmonic Portal has been shown at Lumiere London 2018 and light festivals across Europe including Geneva Lux.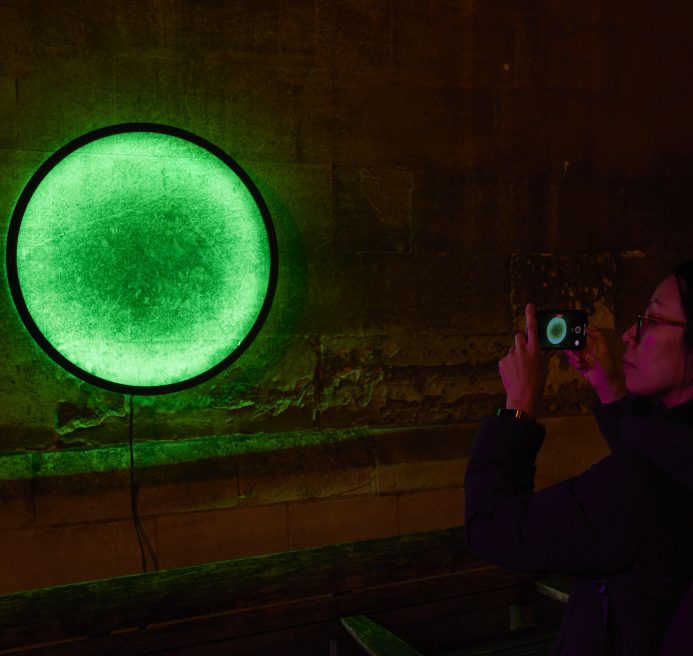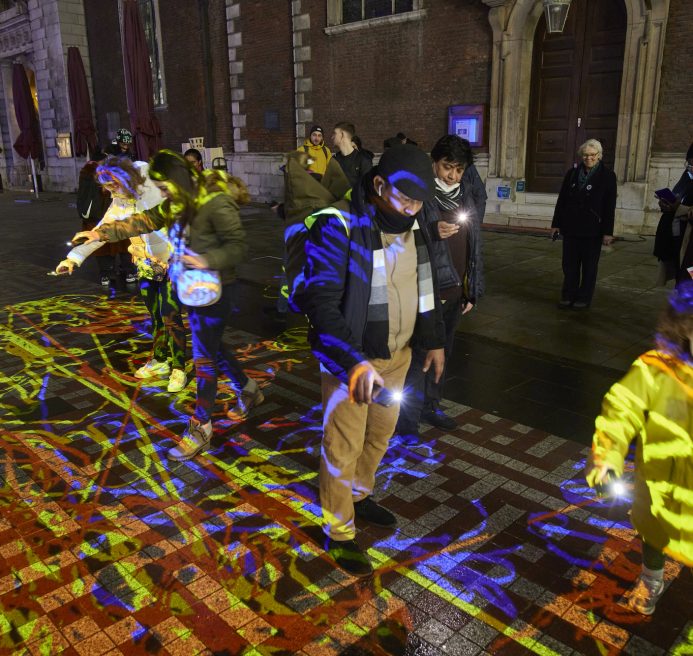 Floating Pictures  
St Mary le Bow Churchyard Square
A chance to get creative and paint the town multicolour!  
With the use of a smartphone torch or any source of light, paint the streets with light and turn The City into a colourful canvas.
Amelia Kosminsky
Bloomberg Public Plaza, 3 Queen Victoria Street
Wonder at the inner beauty of our brains.
Pull the rope to rotate this floating sculpture and propel sparkling neurons into the night sky.  Celestial Brainstorm reframes the sometimes-alienating patterns of brain scans and highlights the beautiful creative possibilities that can emerge from irregular brain activity.  
Having grown up with photosensitive epilepsy, Amelia has always been fascinated and repelled by light and the effect that it has on the brain. Flashing lights can result in a seizure, whereas flickering lights are mesmerising and enchanting. With Celestial Brainstorm, Amelia hopes to capture this second state while using neuron patterns to create the effect of a constantly moving starry sky.  
 
Credits: 
Production Manager: Ben Wallace  
Designer of Light Source and Control System: Liam Strong  
Illustrator: Guy Armstrong  
Structural Design: Unusual Rigging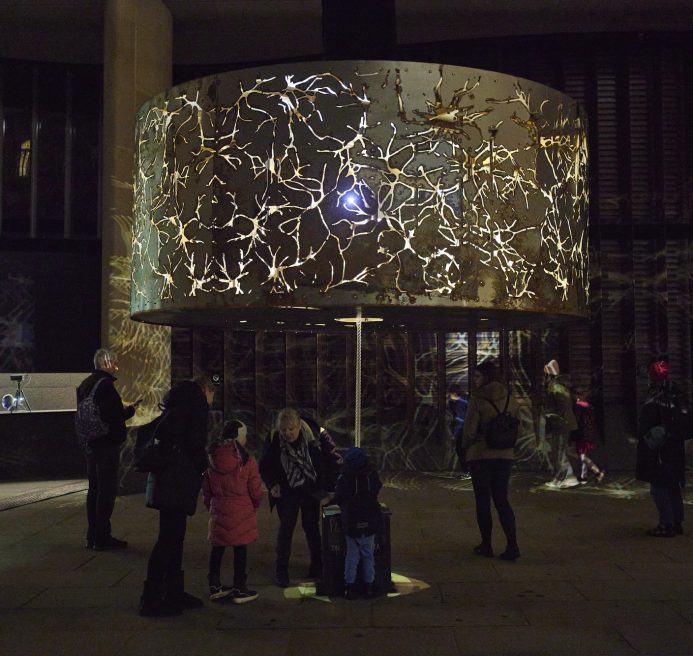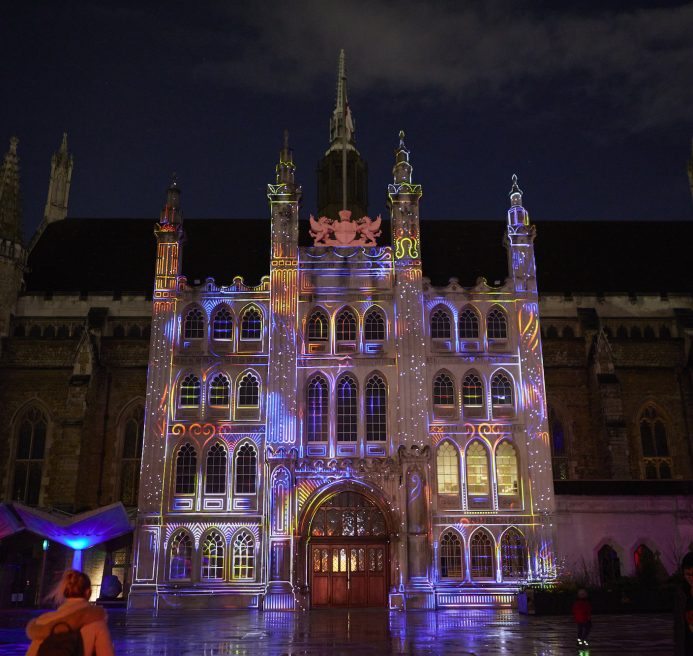 Mr.Beam  
Guildhall Yard
An interactive piano installation, allowing the audience to animate the architecture of The City through music.  
Each note played by members of the public on the grand piano generates a pulse of light, transforming the building into a spectacle of patterns, responding to the tone, speed, volume of the live music.