Scroll for more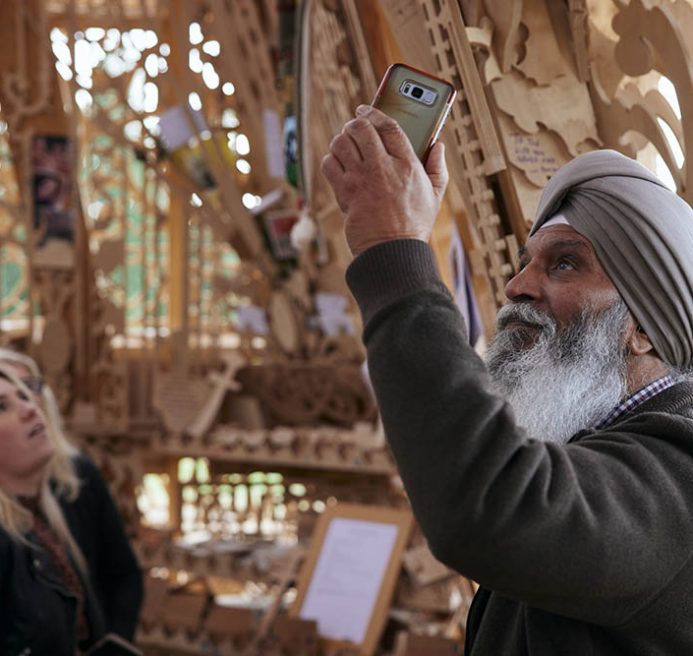 Built to Burn. Designed to Heal
An extraordinary artwork by David Best
Produced by Artichoke, in association with Imagineer
Supported by Nuneaton & Bedworth Borough Council, Warwickshire County Council, DCMS Culture Recovery Fund and Royal Shakespeare Company
Visit the Sanctuary website
Sanctuary offered a moment to remember our loved ones and act as a beacon of hope to mark the rebirth, recovery and regeneration of the whole community.
In May 2022, a unique public memorial was built in Nuneaton & Bedworth, birthplace of George Eliot and home to the country's largest Armistice Day Parade. Sanctuary was an unforgettable temporary structure and space of healing, built by the local community to commemorate the nation's loss during Covid. Artichoke, the UK's leading producers of extraordinary live events, brought their unique approach to public art to the region, inviting people to come together in the spirit of remembrance and hope.
Delivered in association with Coventry-based company Imagineer, we invited local people to get involved, meet new people and learn new skills, both for the build and for the event itself. Sanctuary brought people together from across the area and provided opportunities for employment and training, working through community groups and local partners. 
Through Artichoke's continuing partnership with American artist David Best, local people worked with Best and his crew to build an intricately carved wooden structure in the Miners' Welfare Park in Bedworth, "the town that never forgets". Best is known for his soaring temples, built at Burning Man and elsewhere, quiet places for contemplation and reconciliation. Sanctuary remained open to all for seven days from 21-28 May, offering a space to remember those we lost and everyone impacted by Covid. A spectacular finale event on Saturday 28 May established Sanctuary as a beacon of hope to mark the rebirth, recovery and regeneration of the whole community. 



"This past year and a half has not been easy for anyone. We have faced terrible tragedy and great loss. I believe in the power of collaboration and community, that by recognising pain and sadness, and laying down our burdens, we can face the future from a place of hope and renewal. That's what I hope Sanctuary will bring to the people of Nuneaton & Bedworth, the West Midlands and everyone who makes the journey here."  
– Artist, David Best
A Covid Memorial for the Nation
Sanctuary was a project for the whole community and one that put Nuneaton & Bedworth firmly on the map, bringing people together from across the area and providing opportunities for employment and training, working through community groups and local partners. 
A group of seven torchbearers were specially selected to set the structure alight: The Very Reverend John Whitcombe, Dean of Coventry; Becky a local artist and musician who had worked on the build; Colin, a member of the local biker community who visited the project; Matt and Pete, members from the RSC Carpentry workshop who built the frame; and Gary from Derry.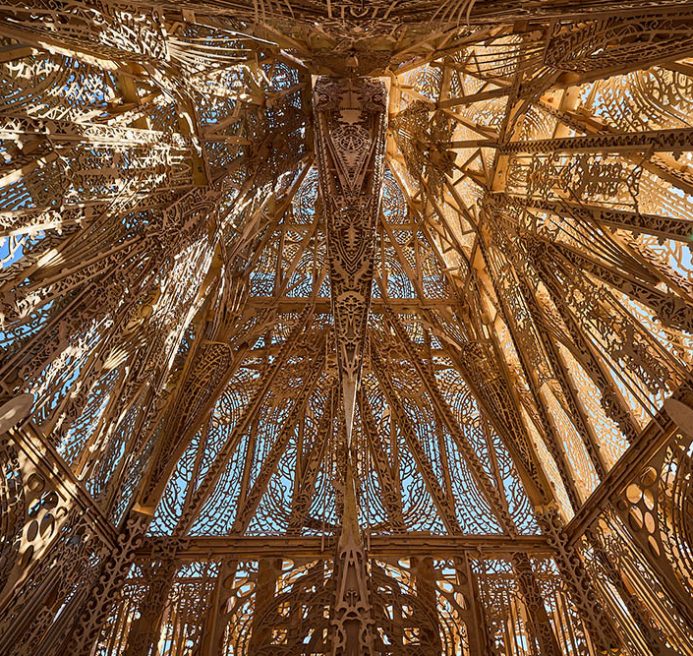 Sustainability
Artichoke is committed to addressing the environmental challenges that we now face and reducing the environmental impact of all our events and operations. Since 2013, Artichoke has submitted an online annual report to Julie's Bicycle as part of our ongoing commitment to monitoring and reviewing the environmental impact of our events and office activities. Artichoke is now also signed up to the Vision 2025 Pledge for a Greener Festival.
For Sanctuary our green action plan set and achieved high targets for excellent outcomes in terms of the energy, waste and environmental impact of the project. From ensuring that the project left no trace, to investigating longer-term reforestation plans, Sanctuary was committed to being as environmentally sustainable as possible, and to contributing to the UN sustainability goals for People, Planet and Prosperity through working with the local community.
Supporters
Thank you to our supporters who have given so generously to help Artichoke produce Sanctuary.
Artichoke is a registered charity and every penny received from the public, businesses, trusts, and foundations goes directly towards the festival and keeping it accessible for everyone to attend.