Scroll for more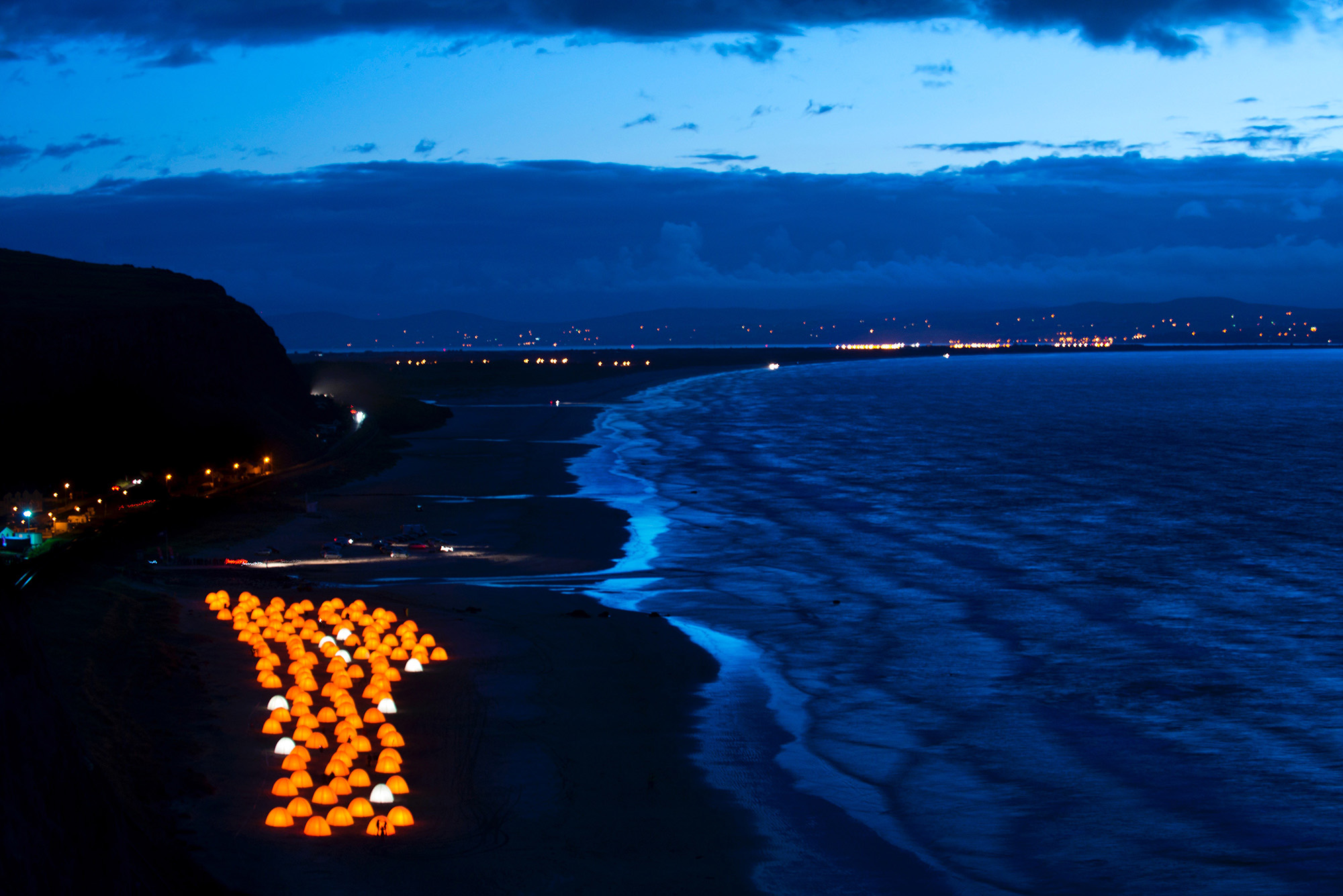 A coastal installation celebrating love, poetry and landscape.
Part of the London 2012 Festival.
During the summer of London 2012, something extraordinary happened
Eight murmuring, glowing encampments appeared simultaneously at some of the UK's most beautiful and remote coastal locations, from County Antrim to the tip of Cornwall, from the Isle of Lewis to the Sussex cliffs. Designed to be visited between dusk and dawn, Peace Camp was a poignant exploration of love poetry and a celebration of the extraordinary variety and beauty of our coastline.
Alongside the live installations, the project also painted an oral portrait of the nation online. The people of the UK were asked to nominate and record their favourite love poems and submit their own messages. The collection was archived with the British Library, an anthology that celebrates our languages, dialects and accents as well as our rich poetic tradition. 
Peace Camp was co-commissioned by London 2012 Festival and Derry~Londonderry City of Culture 2013.




Listen to the Peace Camp soundscape (remastered 2020)
As the pandemic struck and lockdown loomed, we thought about how we could make a work that transcended our confined existence and take us to another time and place. We approached composer Mel Mercier to work with us on a new edition of his mesmerising soundscape originally made for Peace Camp. 
Featuring an ever-shifting tapestry of love poetry from across the centuries interweaved with natural sound and recorded in the five languages of our islands, this immersive new recording transports listeners to a sonic landscape where for 60 meditative minutes the world holds still.
Includes extracts of poetry by William Shakespeare, W.B. Yeats, Virginia Woolf, Nick Cave and Carol Ann Duffy performed by actors including Fiona Shaw, Anne-Marie Duff, Eileen Atkins, Ted Hughes and Ioan Gruffudd. Full track listing below.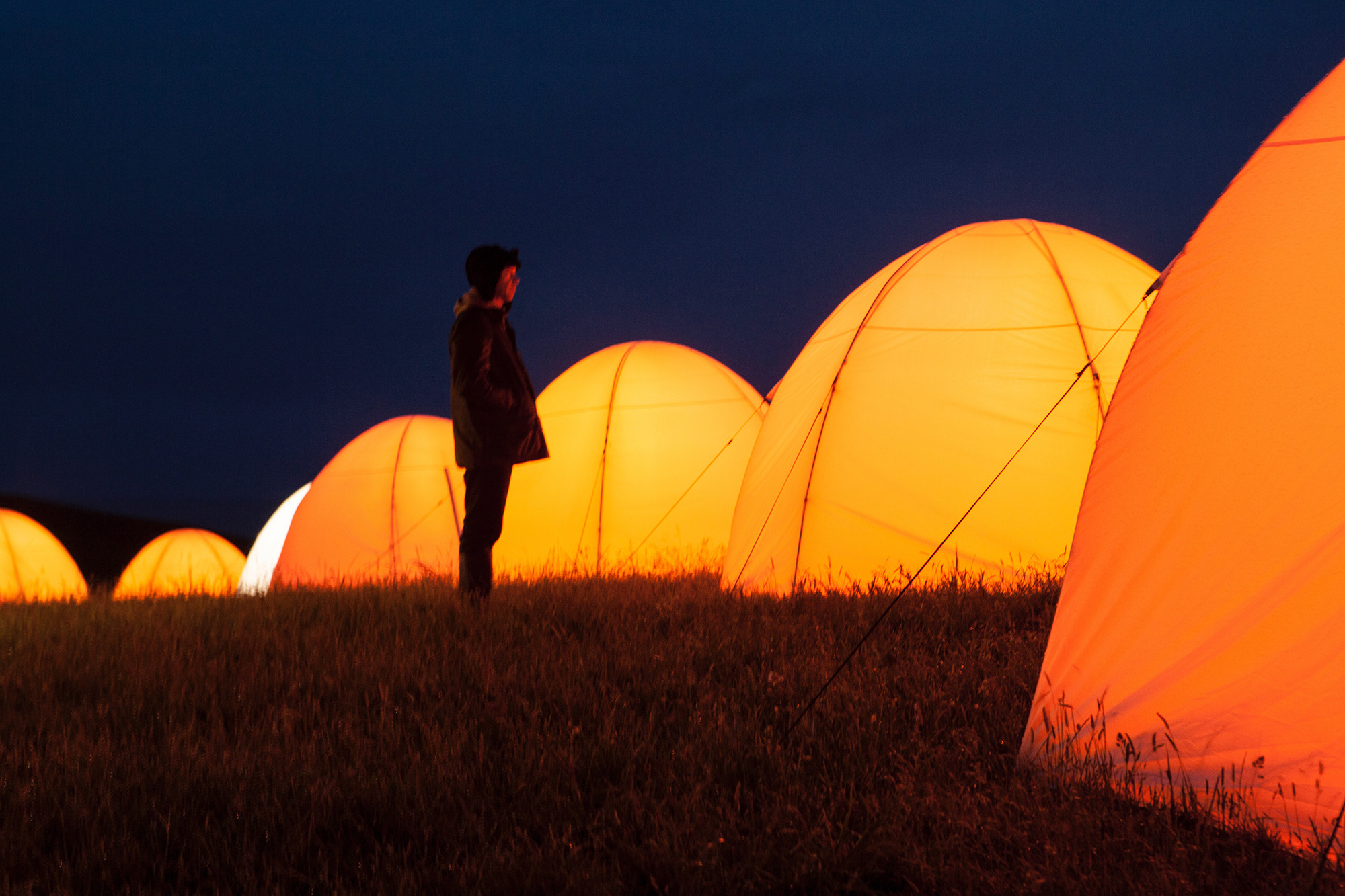 Peace Camp Test Site, June 2012, Glamorgan, Wales. Photo by Matthew Andrews. Peace Camp is created by Deborah Warner in collaboration with Fiona Shaw. Soundscape by Mel Mercier. Sound design by John Del' Nero. Produced by Artichoke.
Peace Camp took place at eight beautiful locations in England, Scotland, Wales and Northern Ireland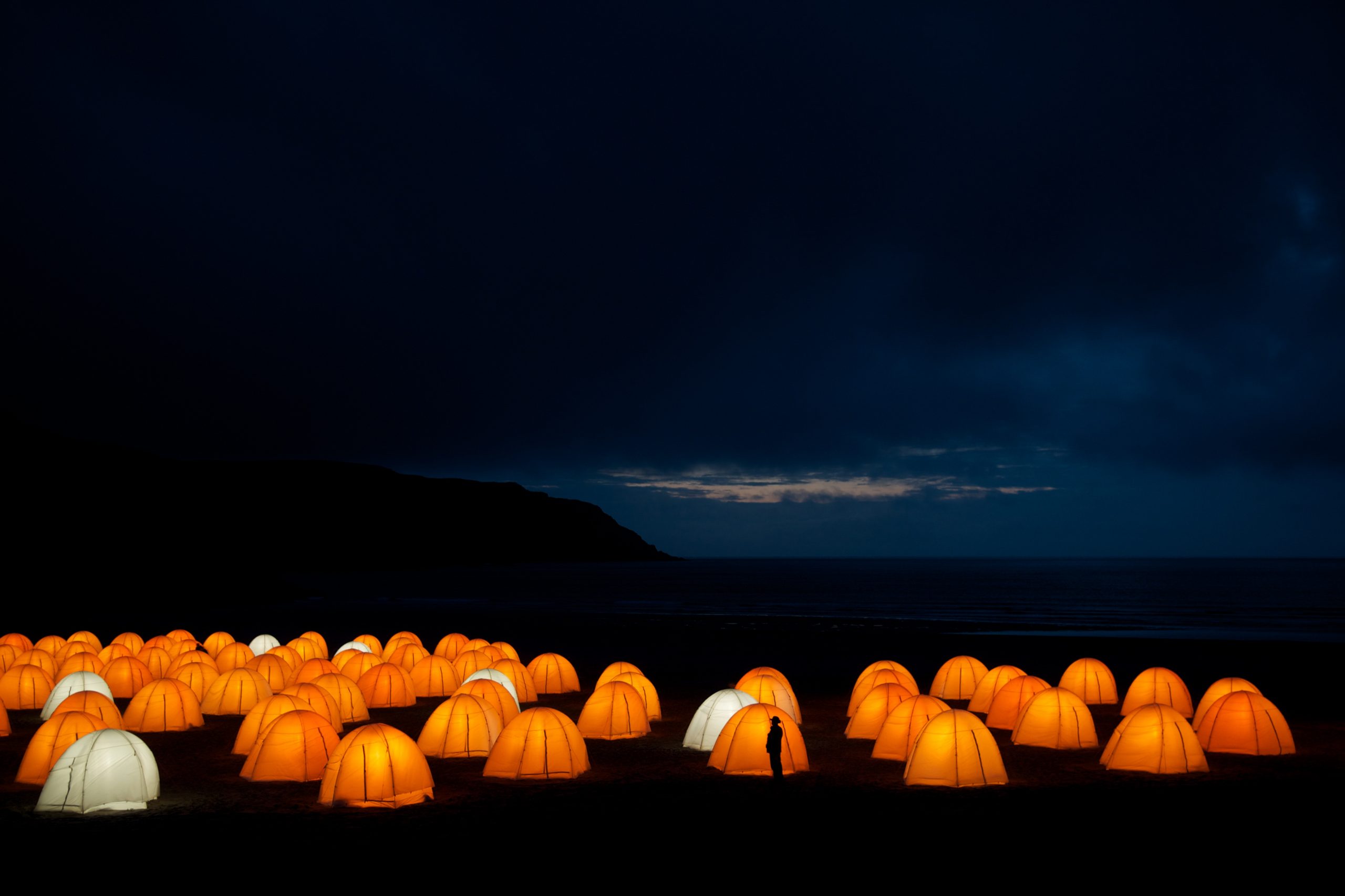 Cemaes Bay, Anglesey, Wales

Cuckmere Haven, Seven Sisters, East Sussex, England

Cliff Beach, Valtos, Isle of Lewis, Scotland

Dunstanburgh Castle, Craster, Northumberland, England

Fort Fiddes, Cullykhan Bay, Aberdeenshire, Scotland

Godrevy, Cornwall, England

Mussenden Temple and Downhill Beach, Borough of Coleraine, Northern Ireland

White Park Bay, on the North Antrim Coast, Northern Ireland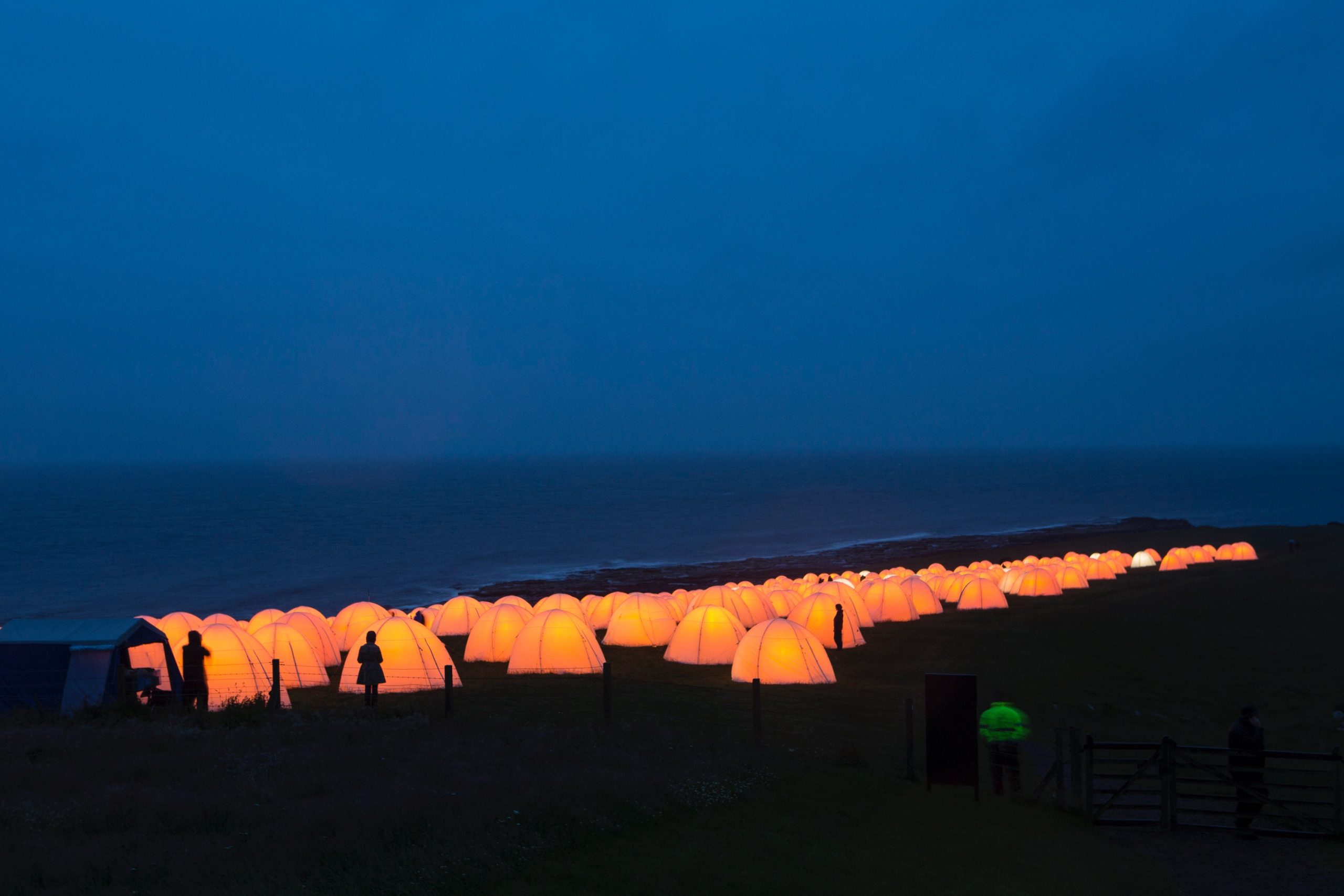 Dunstanburgh Castle, Craster, Northumberland. Peace Camp, Deborah Warner in collaboration with Fiona Shaw, 2012. Soundscape by Mel Mercier. Sound Design by John Del' Nero. Produced by Artichoke. Photo by Matthew Andrews
Learning and Participation: InTents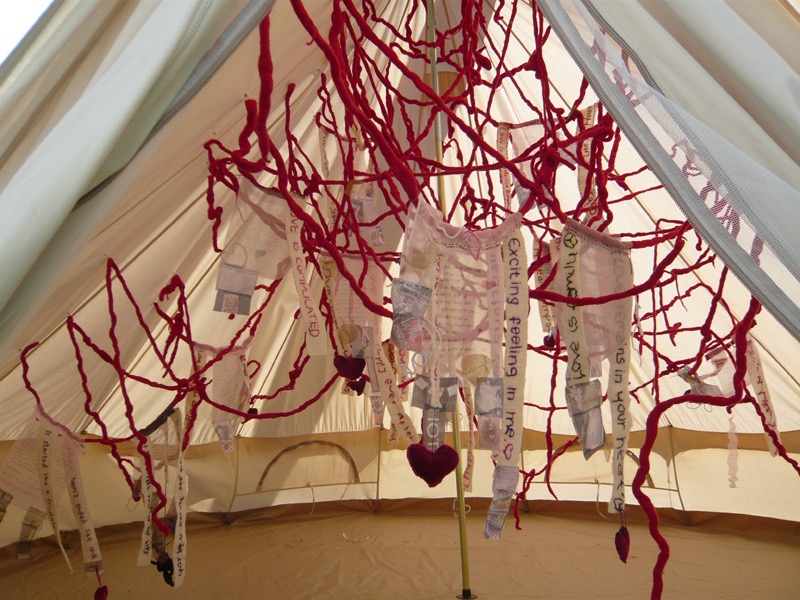 The Peace Camp InTents education project worked with over 400 children and young people from across the UK.
Each school was sent a bell tent and small display of books of love poetry, textiles and installation art – part sponsored by Faber and Faber and Penguin, and chosen by artists and writers working on the project – to inspire students and teachers and to keep as valuable additions to their libraries.
Inspired by the themes of love, language and landscape, the children and young people produced a series of highly original poems and individual artworks to be displayed in their bell tents. From love poems embroidered and cross-stitched onto placards in the style of demonstration banners to glass bottles collaged with love messages accompanied by a lost at sea soundscape, the work produced represents a fascinating portrait of the lives and loves of young people across the UK in 2012.
The schools' Peace Camp tents went on public exhibition in venues and festivals local to the schools throughout the summer. All the tents then travelled to the South Bank in London where they were displayed together along the riverside as part of National Poetry Day celebrations.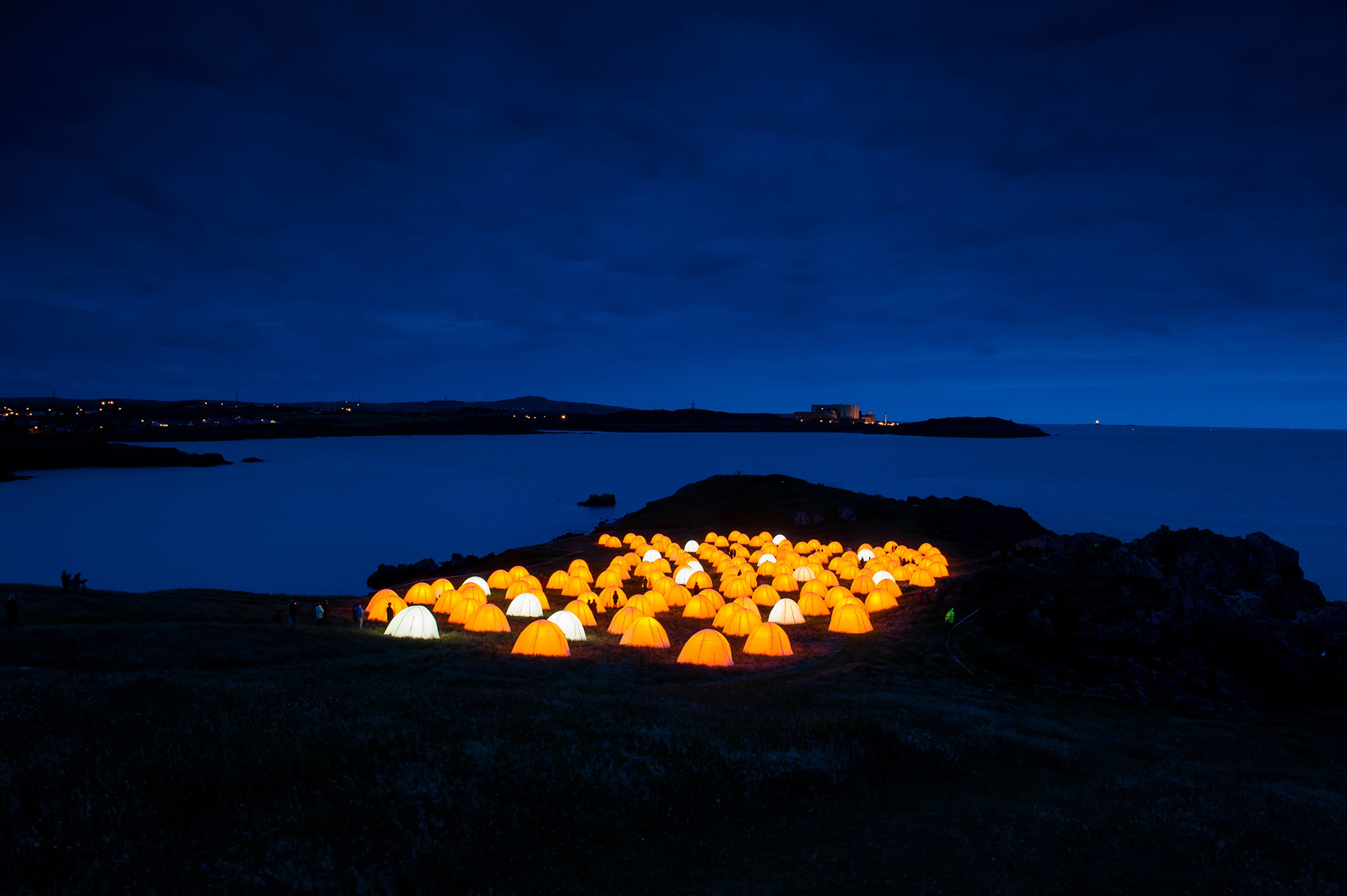 Peace Camp at Cemaes Bay, Anglesey, July 2012. Peace Camp is created by Deborah Warner in collaboration with Fiona Shaw. Soundscape by Mel Mercier. Sound design by John Del' Nero. Produced by Artichoke. Photo by Pete Carr.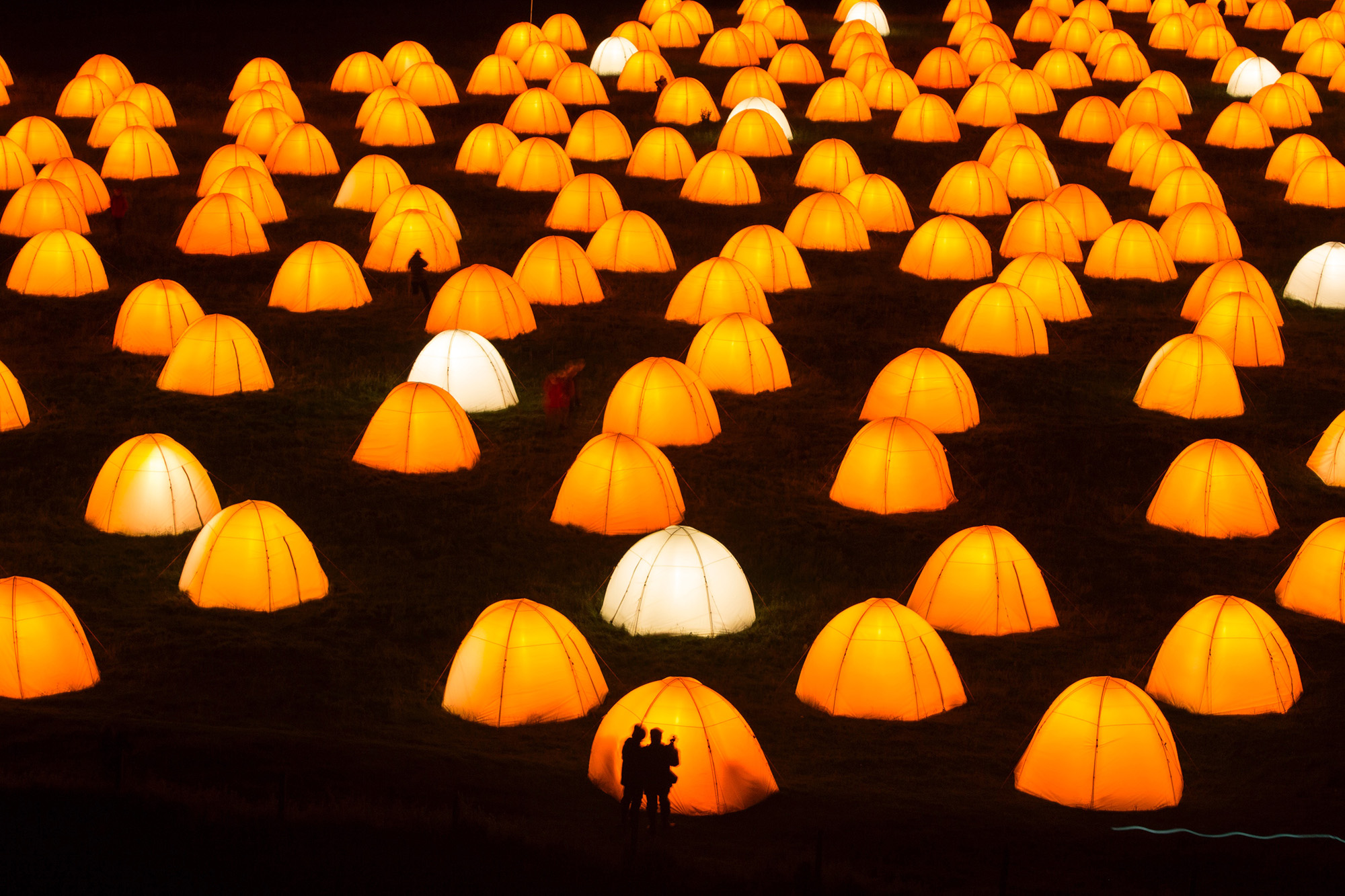 Full soundscape credits: 
Deborah Warner in collaboration with Fiona Shaw, for London 2012. Soundscape composed and re-edited for broadcast by Mel Mercier. Sound design by John Del'Nero. Produced by Artichoke
Peace Camp was a coastal installation commissioned by the London 2012 festival and Derry~Londonderry UK City of Culture 2013, 19-22 July 2012
Track Listing:
The Cap and Bells, William Butler Yeats, performed by Fiona Shaw
Sonnet 129, William Shakespeare, performed by Cliff Burnett
Adam's Curse, William Butler Yeats, performed by Jonathan Pryce
The Bait, John Donne, performed by Cliff Burnett, Giles King
I Am No Good At Love, Noel Coward, performed by Angela Lansbury
© NC Aventales, with thanks to The Noel Coward Archive Trust – https://www.noelcoward.com
To His Mistress Going to Bed, John Donne, performed by Annie Freud, Cillian Murphy
The Canonization, John Donne, performed by Ioan Gruffudd
Dover Beach, Matthew Arnold, performed by Eileen Atkins
The Wave, Virginia Woolf, performed by Fiona Shaw
Lovers on Aran, Seamus Heaney, performed by Seamus Heaney 
Ar Lan y Môr, Traditional, performed by Ioan Gruffudd
A Mermaid, William Butler Yeats, performed by Giles King
The Good Morrow, John Donne, performed by Jonathan Pryce
She Moved Through the Fair, Traditional, performed by Robin Robertson
Scarborough Fair, Traditional, performed by Alun Armstrong
The Frog Prince, Stevie Smith. Extract taken from 'The Frog Prince', Copyright Stevie Smith, first appeared in Collected Poems and Drawings of Stevie Smith by Stevie Smith. Reproduced by permission of Faber & Faber Ltd. Performed by Fiona Shaw
Death is Smaller Than I Thought, Adrian Mitchell, performed by Jonathan Pryce
O Do Not Love Too Long, William Butler Yeats, performed by Giles King
She Tells Her Love While Half Asleep, Robert Graves, performed by Anne Marie Duff. Reproduced by kind permission of Carcanet Press Ltd., Manchester
Cosmology, Michael Symmons Roberts, performed by Michael Symmons Roberts
Anne Hathaway, Carol Ann Duffy. Anne Hathaway, Copywright © Carol Ann Duffy. Reproduced with permission of the Licensor through PLSclear. Performed by Harriet Walter
For Love (quote from Orlando), Virginia Woolf, performed by Fiona Shaw
Lovesong, Ted Hughes. Extract taken from 'Lovesong', Copyright Ted Hughes, first appeared in Crow by Ted Hughes. Reproduced by permission of Faber & Faber Ltd. Performed by Ted Hughes
Donal Og, Isabella Augusta, Lady Gregory, performed by Fiona Shaw, Aine O Ceallaigh
Prayer, Carol Ann Duffy. 'Prayer' from Mean Time by Carol Ann Duffy. Published by Anvil Press, 1993. Copyright © Carol Ann Duffy. Reproduced by permission of the author c/o Rogers, Coleridge & White Ltd., 20 Powis Mews, London W11 1JN, Performed by Philippa Wilson
Holy Island, Andrew Motion. 'Holy Island' from THE CUSTOM HOUSE by Andrew Motion© Andrew Motion, 2012. All Rights Reserved. Performed by Andrew Motion
Sonnet 116, William Shakespeare, performed by Eileen Atkins
The Voice, Thomas Hardy, performed by Bill Paterson
Poem 4, Samuel Beckett, performed by Fiona Shaw
Counting the Beats, Robert Graves, performed by Fiona Shaw and Ioan Gruffudd. Reproduced by kind permission of Carcanet Press Ltd., Manchester
The Hug, Thom Gunn. Extract taken from 'The Hug', Copyright Thom Gunn, first appeared in The Man with Night Sweats by Thom Gunn. Reproduced by permission of Faber & Faber Ltd. Performed by Paddy O Kane
When You are Old and Grey, William Butler Yeats, performed by Fiona Shaw and Edna O Brien
Into My Arms, Nick Cave. Copyright © Nick Cave. Used by kind permission of the artist and Mute Song Ltd Antony Harwood. Performed by AL Kennedy, Stephen Coates